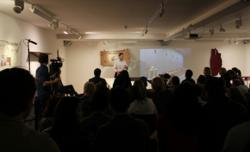 As soon as you put makers behind designers, you lose that link so we set up the studio so the makers are right in the middle of the work
London (PRWEB UK) 30 March 2013
Amberg, whose passion for leather was ignited nearly 30 years ago during an apprenticeship in Australia, put aside any misconceptions that the material was just for "the inside of a car or some hideous leather sofa," challenging perceptions through the story of five different collaborations in leather.
He unveiled a quintet of leather items at the Great Western Design Studios – a Charge bike (with customised leather pan saddle, handle bars, rat traps and mud flaps) a herring-bone parquet floor, a pair of panelled doors, a table top desk and a wall-mounted shelf table, which used techniques first developed for the reception desk at London's iconic The Shard skyscraper.
Famous for creating high-end leather interiors and fashion accessories, Amberg revealed some of the secrets to his long and illustrious career to an audience of 100 at the Inside Design event.
He described the unique layout of his London studio, where designers and craftsmen work hand-in-hand to create truly outstanding leather products and bespoke interiors.
"As soon as you put makers behind designers, you lose that link so we set up the studio so the makers are right in the middle of the work, right in the middle of the building so every designer, whatever they're doing, even if they're just going to make a cup of tea, has to walk past someone making something in leather.
"It twists the way designers work and think, changing the way they work on screen because, right next to them, there is someone physically making something. If you separate those two elements, it becomes a different environment altogether."
It's a philosophy which has certainly worked for Amberg. Having started off making jockey's shoes in Addelaide, Australia, when he was offered an apprenticeship with leather worker Gay Wilson, he went on to open his own leather studio in London in 1985.
Liberty asked Amberg to design a range of bags for its department store and collaborations with Paul Smith, Donna Karan and Dunhill followed. Amberg has created stunning bespoke interiors for Claridges along with leather panelling for super yachts the Maltese Falcon and Roman Abramovitch's The Eclipse.
He partly attributes his success to not having gone to university. "I think it's saved me from having to get too bogged down in too much 'this is right and this is wrong,'" he said. "I had parents who, even though I didn't go to university, they never for one minute felt this was a disaster they just said go and keep making stuff and keep designing stuff and you'll be all right."
Sharing some of his encyclopaedic knowledge of leather, Bill also spoke about the immense variety of hides on offer from specialist tanners around the world and the different qualities of the material depending on which part of the animal it originates from.
He discussed the process behind his creations with design gallerist Libby Sellers, mapping the success of his most iconic designs while also examining the importance of craft in the development of a design.
Bill is now hoping his Inside Design exhibition, which ran from February 21st until March 6th, will have challenged people's perception of leather, encouraging both consumers and craftsmen to think outside the box when it comes to using the material. Described as an eye-opener by critics, the event was a must-see for anyone with an interest in product and interior design.
"The overall message of the exhibition was that process shapes the final product," he says. "We see this at the studio every day. That's why visiting the studio is the best starting point for any collaboration."