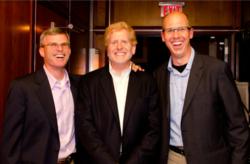 "The name of the game is not to try to be right all the time. It's to win. You win by always moving forward, making your share of mistakes, and learning from them as you go along." - Howard Tullman
Atlanta, Georgia (PRWEB) June 24, 2013
Successful entrepreneurs Robert Jordan and Howard Tullman will reveal the key lessons learned for growing a business from scratch to over $100 million at an exclusive event for business leaders.
Atlanta entrepreneurs Barry Spencer and Scott Noble lead a group of business owners, leaders and entrepreneurs to learn how Howard Tullman has created over 6,000 jobs and over a billion dollars in real business value. Tullman will reveal real world lessons on how an attorney became a serial entrepreneur starting dozens of businesses in multiple industries including technology and education.
The insights are guaranteed to be practical and profitable. Tullman has twice been ranked on Inc. Magazine 100 List and first in profitability among all the companies. He sold CCC Information Services, Inc. in 1987 for $100 million and Tunes.com for $136 million. He also did a complete turnaround of Kendall College and launched Experiencia, which trained 20,000 public school children in Chicago.
Robert Jordan, author of the nationally acclaimed book, How They Did It: Billion Dollar Insights From The Heart of America, reveals secrets of the 45 entrepreneurs interviewed for the book who built businesses from scratch and collectively created an average of $900 million in real business value.
Jordan also starting Online Access from scratch while in business school. After it struggled to survive for a few years, he eventually had to buy the rights out of bankruptcy building it back and several years later sold it for over $100 million.
On July 23 in Chicago business leaders from the Atlanta will meet Robert Jordan and Howard Tullman to gain new insights for growing a business in this new economy, how to strategically monetize the business with the latest technology and tools, and gain practical advice for overcoming business challenges.
The event includes a special presentation from Howard Tullman on how social media and mobile technology advancements are changing the business landscape and what can be done to use it to grow a business today.
For more information contact the offices of Barry H Spencer at 678-278-9632 or http://www.barryhspencer.com.