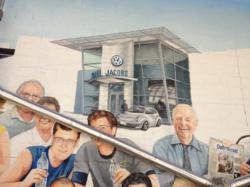 "This is a great opportunity for college grads. The College Graduate Program is easy and affordable," continued Joutras. "And the first payment is on us! Now that is a great graduation gift."
Naperville, IL (PRWEB) November 09, 2012
To reward college graduates or students who will graduate within 6 months, Bill Jacobs Volkswagen will now make their first month's payment (up to $800).
Bill Jacobs Volkswagen is now offering a College Graduate Program to assist college graduates when buying or leasing a Volkswagen, offering them great rates and flexible terms, among other incentives. Paying up to $800 of their first month's payment makes it even more appealing.
"We are excited to offer this unique program to graduates entering the next stage of their life," said Greg Joutras, General Manager at Bill Jacobs in Naperville. "Working with their budget, we can offer them flexible terms, get them in a cool car, and send them on their way down the road to success."
Other benefits of the program include being able to lease without a security deposit, a co-signer, or credit history (although existing credit must be in good standing). Eligible applicants can choose from buying, leasing, or the "Driver's Option," which is like buying, but with the option to return the vehicle at the end of the contract. The program can be used towards new or certified pre-owned Volkswagens.
To be eligible, applicants must be either current college students who will graduate within the next six months, or have graduated college in the past 24 months. Applicants must also have either a full-time job or a written commitment from a future employer, must be approved by Volkswagen Credit, and must provide three personal references. For more details visitvwcredit.com/collegegrad.
"This is a great opportunity for college grads. The College Graduate Program is easy and affordable," continued Joutras. "And the first payment is on us! Now that is a great graduation gift."
About Bill Jacobs Volkswagen in Naperville
Bill Jacobs Volkswagen will help you find your perfect vehicle while meeting your needs and budget. Located just north of Wildflower Lake at 2211 Aurora Avenue in Naperville, IL, Bill Jacobs Volkswagen offers an impressive collection of quality new and used cars, as well as certified technicians who will keep your vehicle in excellent condition. While your vehicle is being serviced, enjoy complementary wifi and a children's play area. You are invited to come visit Bill Jacobs Volkswagen, take a test drive, and find your dream car at an affordable price.
For more information, please call 866-308-0083 or visit http://www.billjacobsvw.com.