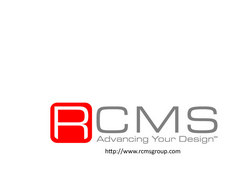 Adding Grant to the RCMS Group team is truly a coup
Atlanta, GA (PRWEB) December 2, 2008
RCMS Group, the industry leader in Building Information Modeling (BIM) services to the design and construction marketplace, today announced that Grant McCullagh has joined its Board of Advisors.
Mr. McCullagh is a highly regarded leader in the engineering and construction industry. Having served as Vice Chairman of AECOM, Co-founder & CEO of McClier Corporation, and Vice President of The Austin Company, Mr. McCullagh's industry experience is wide as well as deep. Mr. McCullagh also has a strong background in global markets where services have included program management, engineering, construction management, design/build, management consulting, and O&M services. "Adding Grant to the RCMS Group team is truly a coup," said KP Reddy, President and CEO of RCMS Group. "His industry insight as well as relevant domestic and international experience will be important for us moving forward."
McCullagh's decision to join the RCMS Group advisory team was the result of both an industry shift towards BIM and the leadership position RCMS Group has earned over the last five years. "The firm and the market seem to be tracking extremely well," said McCullagh. It's important to be a leader in the space in which you play as well as keeping the entrepreneurial spirit that got you there," McCullagh explained.
Additionally, RCMS Group has developed innovations within the BIM market by introducing iBIM or Integrated Building Information Modeling. iBIM is a turnkey BIM framework and standard for design and construction models. Developed and introduced by RCMS Group, and currently used by some of the Nation's leading design and construction firms, iBIM has sped the adoption and use of BIM.
About RCMS
RCMS Group is a trusted partner to the building design and construction community. RCMS Group produces high-quality Building Information Models (BIM) that improves project efficiency and profitability. The company bridges the gap between the design and build communities by leveraging BIM to improve the construction process. RCMS provides Architectural, Structral Engineering, MEP Engineering and other BIM Analytical Services. For more information on RCMS Group, visit http://www.rcmsgroup.com.
Media Contact:
Tony McGaughey
RCMS Group
678-247-2308
###