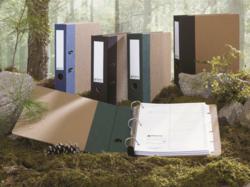 "We worked hard to develop the EcoBound™ line that combines environmentally friendly materials with Bindertek's rigorous standards." Andy Beall, President, Bindertek, Inc.
Amherst, MA (PRWEB) August 11, 2011
Premium office supplier Bindertek, Inc. has introduced a new line of eco-friendly office products. Bindertek's EcoBound™ Recycled Binders and Index Tabs are made from post-consumer recycled materials and are 100 percent recyclable. Bindertek President Andy Beall explains, "We wanted to offer our customers a recyclable file management system, and the challenge was coming up with a recycled binder that meets our customers' demands for high quality. We worked hard to develop the EcoBound™ line that combines environmentally friendly materials with Bindertek's rigorous standards."
Available in both 2-ring and 3-ring styles, EcoBound™ Recycled Binders feature the same top quality ring mechanisms that are used in Bindertek's signature linen-textured binders. Like all Bindertek Binders, the EcoBound™ Recycled Binder carries a Lifetime Ring Guarantee against defects. The steel ring mechanism opens and closes effortlessly with an easy one-touch lever. The ball and socket rings align perfectly without pinching fingers or snagging papers. Cleverly designed for complete recyclability, the EcoBound™ Binder's ring mechanism is easy to remove when it's time to recycle the binder board. The rings can be re-used with new EcoBound™ binder boards.
Made from the toughest recycled hardboard, EcoBound™ Binders feature Bindertek's famous finger holes for easy shelf retrieval. An earth-friendly, colored spine wrap adds durability and style. The repositionable spine label is easy to remove for recycling and can be personalized with Bindertek's free Spine Label Custom Templates.
EcoBound™ Recycled Binders look professional in an office and blend nicely with other binders and books on a bookcase or desk. Available in two spine widths, 2-inch and 3-inch, and three spine wrap colors, Black, Evergreen or Navy Blue, EcoBound Recyled Binders can be purchased individually or in bulk by the case.
Bindertek offers customization to businesses, schools and organizations. EcoBound™ Recycled Binders can be branded with names, logos or artwork and a custom colored spine wrap available in a wide variety of colors to match school or corporate colors.
Bindertek EcoBound™ Recycled Binders are made in the U.S.A. and meet or exceed Forest Stewardship Council (FSC) standards.
About Bindertek, Inc.
An industry leader since 1985, Bindertek offers a wide range of premium office supplies for consumers and businesses including binders, index tabs, office accessories, storage solutions, briefcases and binder caddies. Bindertek provides specialized organization for law and financial professionals, as well as custom binders, custom index tabs and binder kits. Bindertek is a cataloger and internet retailer based in Amherst, MA. Visit Bindertek.com or call 1-800-456-3453 for more product information.
###