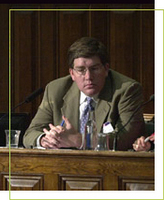 Professor Casper's research on innovation and entrepreneurship in biotechnology brings a new industry perspective to the TMC community. He'll contribute to the ongoing discussion of how to develop successful product and market strategy for technology products
Pasadena, CA (PRWEB) March 13, 2008
Steven Casper, associate professor and director of the Master of BioScience program at the Keck Graduate Institute (KGI, one of the Claremont Colleges), will share concepts for dealing with complexity and uncertainty in planning bioengineered products, at 10 a.m. PDT, March 25, in a free, online interview. Anyone with a computer and Internet connection can attend and submit questions.
Chris Halliwell, director of the online Technology Marketing Center (TMC), will interview Casper, author of an upcoming book on the history of the California biotechnology industry. Casper will discuss trends in applying market research tools to product strategy development for medical technologies.
"Professor Casper's research on innovation and entrepreneurship in biotechnology brings a new industry perspective to the TMC community. He'll contribute to the ongoing discussion of how to develop successful product and market strategy for technology products," says Halliwell.
The discussion with Casper is one in a series of Executive Interviews conducted by the TMC on the last Tuesday of every other month. The TMC provides audio files, discussion forums, and case studies to high-tech marketing professionals and their colleagues in sales, engineering, and management. The TMC is available online at http://www.technologymarketingcenter.com.
Halliwell is an instructor for Caltech's Industrial Relations Center, which specializes in executive education programs that help technically trained professionals to increase their breadth of responsibilities and impact across their organizations (http://www.irc.caltech.edu). She teaches a course on the strategic marketing of technology products, in which more than 3,500 executives worldwide have participated. She also helps industrial companies design cross-functional processes for product and market strategy development.
###