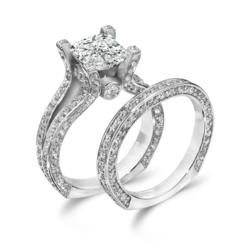 We could not be more proud to have the opportunity to help couples select and even design their CZ wedding ring sets.
New York, NY (PRWEB) March 26, 2013
Birkat Elyon, renowned high-end cubic zirconia jewelry manufacturer, is excited to announce a spike in CZ wedding ring sales as the 2013 wedding season approaches. Offering a complete line of cubic zirconia engagement rings and wedding bands, Birkat Elyon is catering to the needs of their growing, global customer base.
Established in 1986, Birkat Elyon is widely recognized as the world's leading producer of fine CZ bridal jewelry. Using only the highest quality Russian formula, Birkat Elyon cubic zirconia are the very highest quality CZ on the market today. Each stone is hand cut and polished with the same attention to detail used by master jewelers when refining fine diamonds and gemstones. This unmatched precision produces the most dazzling CZ stones in the world. In fact, each Birkat Elyon stone has a purity level of 99.9%, making it difficult, even for experienced gemologists, to identify them as cubic zirconia.
The bridal industry is one of the fastest growing segments in our economy today. Despite volatility in the market, a recent study from the creators of TheKnot.com and WeddingChannel.com found that the average 2012 U.S. wedding budget was $28,427. It's no surprise that engagement rings rank among the highest bridal expenditures, costing an average of $5,431.
As wedding costs continue to rise, many couples are looking for ways to save. The jewelry designers at Birkat Elyon are pleased to report a rise in consumer interest surrounding their CZ wedding ring sets. From classic solitaires to intricately designed settings, the Birkat Elyon bridal collection is proving to be a huge success. After identifying a growing trend in the sales of their bridal jewelry early last year, the Birkat Elyon team launched a CZ wedding ring store within their corporate website. Sales within the Birkat Elyon wedding ring store have exceeded all expectations.
"We expected to receive some additional sales after launching our wedding ring store but we never dreamed it would be this successful," said Rebecca Daniel, Senior Designer and Sales Director at Birkat Elyon in New York. "We could not be more proud to have the opportunity to help couples select and even design their CZ wedding ring sets."
The Birkat Elyon design team is hard at work fulfilling this influx of orders as the 2013 wedding season nears. Though they expect to see orders continue, they're already encouraged by the record number of CZ wedding ring orders they have received to date.
"We're excited to see what the future holds and, more importantly, to help more and more couples find the wedding and engagement rings of their dreams," added Daniel.
The entire Birkat Elyon team is preparing for a busy and prosperous 2013. Watch for more exciting announcements and product releases, in the coming year, as the designers a Birkat Elyon continue to meet growing market demand. To learn more about Birkat Elyon cz jewelry, visit them online at http://www.Birkatelyon.com or call 877.777.8352 to speak to one of their talented jewelers.
About Birkat Elyon:
Birkat Elyon is an online luxury cubic zirconia jewelry manufacturer, specializing in 14K gold, 18K gold and platinum designs. Birkat Elyon has more than 20 years of CZ jewelry expertise. Located on Park Avenue in New York City, Birkat Elyon offers free wedding jewelry consultations for the selection of ready-made designs, as well as for custom-made jewelry.
###