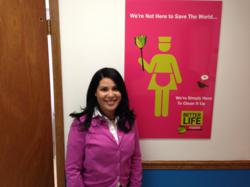 I am really excited to bring Better Life Maids to Birmingham.
Birmingham, AL (PRWEB) March 28, 2013
Birmingham, Alabama will see the Better Life Maids green house cleaning service opening March of 2013. Mara Brend will be opening the local Birmingham office, and leveraging her extensive customer service and business experience to deliver Birmingham clients of Better Life Maids a one of a kind green home cleaning experience.
"I am really excited to bring Better Life Maids to Birmingham," said Mara Brend the local Birmingham owner. "The Better Life products are amazing, and really do give people an alternative to harsh cleaning chemicals. Not only that, the Better Life Maids cleaning system uses no paper, and has minimal environmental footprint. And the back end technology helps give a much better customer experience. I can't wait to show our Birmingham clients what a Better Life Maids green house cleaning is all about."
Better Life Maids utilizes the entire line of Better Life natural household cleaning products. The Better Life products have been featured on The Today Show, Real Simple Magazine, Rachel Ray, and more. In addition they are sold coast to coast in Whole Foods and other retailers. In addition Better Life Maids positions itself as a high quality provider of house cleaning services. Higher standards in screening, training, and technology all help deliver a one of a kind cleaning experience
An example of how Better Life Maids sets itself apart is its Dish Soap For Life program. When a client signs up for recurring service, they are provided a 20oz bottle of Better Life all natural dish soap. The dish soap is refilled on each visit. It is just one of many extra touches that Better Life Maids provides its house cleaning clients.
Better Life Maids is a green house cleaning service founded in St. Louis, MO. It has created a unique marketing partnership with Better Life a natural household cleaning products manufacturer. Together they are working to create the first national name brand in natural household cleaning products and green house cleaning services. Better Life Maids is expanding in select markets through a franchise development system. For more information visit http://www.betterlifemaids.com or http://www.cleanhappens.com.