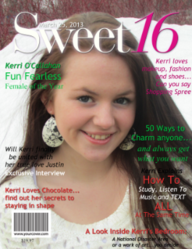 Beautiful, flattering custom design to make anyone envious! It captures the best individual qualities of appearance and personality! Great innovative idea! Thank you!
Wilton, CT (PRWEB) March 08, 2013
The March 2013 Cover of the Month using the Sweet 16 magazine cover template, was designed by YourCover's customer, Maddy O. Her design is representative of the unique milestone birthday gifts consumers have been creating at YourCover since 2000. Over the last 13 years YourCover has expanded the range and depth of their birthday-themed fake magazine covers to cover all the major milestone years.
Shoppers can choose from the following line-up: 1st Birthday, Quinceanera (15th birthday), Sweet 16, 18th, 21st, 30th, 40th, 50th, 60th, 65th, 70th, 75th, and 80th Birthday Magazine Covers.
In addition there is a standard Happy Birthday magazine cover to which consumers can add their own custom number through the 'add a headline' tool in the magazine cover generator at YourCover.
Each fake magazine cover is personalized with the recipient's photo and the headlines are customized to be all about that person, their life, family, friends, special memories and their milestone birthday celebration.
YourCover offers multiple options for unique milestone birthday gifts. The magazine covers can be downloaded for instant access and self-printing (a great option for those needing last minute gifts). For those with more lead time, YoruCover can print and frame the magazine covers which arrive ready to be wrapped and gifted. YourCover also offers a gift message option for direct shipping to the birthday honoree as well as the option to print the fake magazine cover design on a poster, t-shirt, mug or mouse pad.