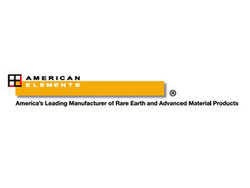 Los Angeles, CA (PRWEB) June 30, 2009
Los Angeles-based American Elements announced the further expansion of its bismuth telluride (Bi2Te3) production facilities to meet growing demand for the semiconductor material in computer chip production. BiTe forms available include powder, pieces (also lump and chunk), plates, discs, and sputtering targets for thin film deposition. See product details at http://www.americanelements.com/tebi.html .
Recent research has confirmed that bismuth telluride may significantly increase the speed of microchips and be the basis for the emerging next generation technology know as "Spintronics".
At full capacity, the new facility can deliver several metric tons monthly. The new production capability will affect deliveries beginning immediately and small quantities for testing and qualification are now available. This will also expand American Elements' production of several other semiconductor telluride and selenide compounds and crystal materials.
For further technical and pricing information on American Elements' products, please visit us at http://www.americanelements.com or contact your local American Elements distributor or American Elements U.S. corporate headquarters at (1)310-208-0551, FAX (1)310-208-0351 and customerservice at americanelements dot com. American Elements is America's leading manufacturer and supplier of engineered and advanced material products with distribution offices throughout the world, including Europe, Asia and South America.
###