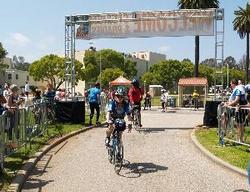 I am so thankful for everyone's tremendous support throughout my journey
Newport Beach, CA (Vocus) June 30, 2010
Loree Glenn, a Mission Viejo wife and mother of two, successfully finished the grueling 545-mile AIDS/Lifecycle Ride on Saturday, June 12, 2010, as part of her efforts to help end the pandemic and human suffering caused by AIDS. This is the third year Loree has successfully completed the trip and the third year the Newport Beach Personal Injury Attorneys of BISNAR | CHASE have sponsored her efforts. Loree exceeded her fund raising goal by 27.5% this year.
The AIDS/Lifecycle Ride raises funds to support the HIV/AIDS services of the L.A. Gay & Lesbian Center and the San Francisco AIDS Foundation, as well as to increase awareness and knowledge about HIV/AIDS among the ride's participants, donors and the general public. This year's trek began in San Francisco on June 6 and ended in Los Angeles on June 12, with thousands of riders joining the cause as they pushed their way over hundreds of miles of terrain, including California's scenic Pacific Coast Highway 1.
"I am so thankful for everyone's tremendous support throughout my journey," said Loree. "From my loving and caring family to my close friends to my official sponsor, BISNAR | CHASE, for its monetary contributions, I am blessed to have the people in my life support this cause, to help put a stop to this terrible disease."
Loree said her journey was extremely meaningful this year given the fact that there are currently 1.1 million Americans living with HIV, the highest number in the history of the pandemic.
"With the current economic climate and the way many philanthropic organizations are struggling, I was determined to push myself as hard as I could to raise as much money as I did this year."
While Loree was much better prepared for this year's ride compared to rides in past years, she still had to overcome obstacles to finish the race, including traversing a series of gigantic hills known as the "Evil Twins" and the "Quadbuster." Other riders had their fair share of challenges too, including Loree's tent mate who suffered from dehydration along the way.
On Day One of the ride, Loree biked more than 79 miles through rain and fog, ending the first exhausting leg of her journey in scenic Santa Cruz, California.
On Day Two, she racked up the most mileage of any day of the trek, biking more than 107 miles over 12 hours through vineyards and strawberry and artichoke fields.
Loree completed 67 miles on Day Three, a ride that included the dreaded "Quadbuster" hill, made especially challenging given the 100-plus miles she'd biked the day before.
She reached the "Halfway to LA" stop on Day Four, a journey that began in Paso Robles and ended in Santa Maria, for a total of 97.7 miles over twisting terrain wrought with potholes and uneven gravel roads. This leg of the trek included two enormous, back-to-back hills dubbed the "Evil Twins."
On Day Five -- known as "Red Dress" day -- Loree biked nearly 68 miles, half of which were spent fighting strong headwinds that almost brought her to a complete stop, even while pedaling downhill. Red Dress day is when every rider wears red to represent a giant AIDS ribbon blowing in the wind, as the cyclists make their way through this particularly blustery section of the course.
Loree biked almost 86 miles on Day Six, from Lompoc to Ventura, through Gaviota Pass and into the beautiful towns of Santa Barbara, Montecito and Carpinteria.
Day Seven saw the end of Loree's grueling journey after biking a final leg of almost 62 miles. She crossed the finish line in Westwood, California where her husband and her two sons were there to greet her and to offer her their congratulations.
"Following Loree throughout this journey and witnessing the support of her family and friends to help her achieve her goals has been extremely motivational," said John Bisnar of the BISNAR | CHASE law firm. "This is a prime example of what one person can do, as an activist, to make a difference in the lives of millions of people. We're proud to be Loree's sponsor this year, and we look forward to being her sponsor in future ALC rides."
To view daily blog entries from Loree's bike trek, as well as a photo of her crossing the AIDS/Lifecycle finish line, or to make a donation to help victims of AIDS on behalf of Loree, be sure to visit her personal AIDS/Lifecycle webpage.
About BISNAR | CHASE
Since 1978, top-rated BISNAR | CHASE Personal Injury Attorneys have won hundreds of millions of dollars for over 6,000 clients who have been very seriously injured or lost a family member due to an accident, defective product or negligence throughout California. The law firm has won a wide variety of challenging personal injury and defective product cases against some of the largest insurance companies, corporations and governmental agencies. For more information, be sure to visit http://www.BestAttorney.com to get your free copy of The Seven Fatal Mistakes That Can Wreck Your California Personal Injury Claim.
###