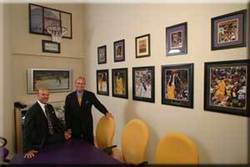 One look at our conference room and you know we're diehard Lakers fans here at BISNAR | CHASE
Newport Beach, CA (Vocus) October 19, 2010
As avid Los Angeles Lakers fans, the Newport Beach personal injury attorneys of BISNAR | CHASE (BestAttorney.com) today announced the launch of the first ever BISNAR | CHASE "Jack-O-Lakers" contest.
The contest, open to the public and judged by the BISNAR | CHASE staff, will award two free Los Angeles Lakers tickets to the person who makes the most creative Los Angeles Lakers jack-o-lantern.
The rules are simple. Entrants must be 18 years of age or older, must be residents of California and must use a real pumpkin to be eligible to win. Submissions may be carved, painted or decorated.
A digital photo of your Jack-O-Lakers creation should be submitted to Danielle Olson at BISNAR | CHASE via email at dolson(at)bisnarchase(dot)com by 5:00 pm PDT on October 28, 2010. Please include your name, street address and phone number in the email.
The BISNAR | CHASE staff will review the submissions and pick the winner. The winner will be announced at 12:00 pm PDT on October 31, 2010 at the BISNAR | CHASE website, BestAttorney.com. The top submissions and the winner will also be featured in the November 2010 BISNAR | CHASE newsletter.
The top winner will receive two free Los Angeles Lakers tickets to an upcoming 2010-11 regular season game. These are "lower level" seats -- much better than nose bleed seats.
"One look at our conference room and you know we're diehard Lakers fans here at BISNAR | CHASE," said John Bisnar, founder of the personal injury law firm. "We thought this contest would be a great way to the public involved in supporting the team this season while celebrating Halloween in the process. We're looking forward to seeing just how creative Los Angeles Lakers fans can be."
About BISNAR | CHASE
Top-rated BISNAR | CHASE Personal Injury Attorneys have represented thousands of Californians who have been very seriously injured or lost a family member due to an accident, defective product or negligence throughout California. The law firm promotes auto safety by pursuing makers of defective vehicles, governmental agencies responsible for unsafe roadways and offering rewards for turning in hit and run drivers. For more information, visit http://www.HitAndRunReward.com and http://www.ProductDefectNews.com.
###