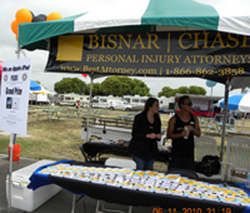 When a child is critically ill, it takes a significant emotional toll on the family
Newport Beach, CA (Vocus) June 18, 2010
The Newport Beach personal injury lawyers of BISNAR | CHASE (BestAttorney.com) today announced they recently participated in the 2010 Orange County Barbecue Festival to help raise funds for Kristie's Foundation, to support critically ill children and their families.
The barbecue festival, dubbed "Que'n for Kids," was held at the Orange County Fairgrounds this past Saturday, June 12. Kristie's Foundation, a non-profit organization that provides assistance, support and cherished memories to critically ill children and their families, organizes the annual event to raise funds for the programs and services it provides.
BISNAR | CHASE staff members volunteered at the festival to give away gifts and prizes to attendees, including an Apple iPad to the lucky winner of the law firm's grand prize drawing. Event activities included a barbecue competition, a rib eating contest, a car show, and the hilarious "Mr. BBQ" Pageant.
John Bisnar, founder of BISNAR | CHASE Personal Injury Attorneys, said this is the first year his firm has participated in the event, but plans to make it an annual occurrence due to the important work Kristie's Foundation does.
"When a child is critically ill, it takes a significant emotional toll on the family," said Bisnar. "Kristie's Foundation gives families hope when it seems they have none. That's why we felt it was so important to be a part of this event. We look forward to participating in next year's event and providing our support in any way we can, to help such an important cause."
Kristie's Foundation offers programs that help families with critically ill children, for all their special needs. Its Family Support program provides emergency funds, respite care and emotional support to families during difficult treatments or surgeries.
The organization's Kids Club gives local families a chance to escape from their world of doctors and hospitals by offering fun activities for the entire family. Its Wish-Assist program partners with wish-granting organizations, children's hospice teams and theme parks to help families traveling to Southern California for a child's Wish Trip or compassion trip.
Kristie's Foundation is expanding and raising money to open Kristie's Place, the first children's end-of-life care facility in Los Angeles. Plans for Kristie's Place include medically-equipped family suites, a fireside room, an arts and activities room, a reflection room, a memorial garden and a petting zoo.
"To us, Kristie's Place is essential in helping families cope with the special needs of children who suffer from terminal illnesses," said Bisnar. "That's why it's important for our firm, as well as our local community, to support Kristie's Foundation and its fund-raising efforts."
Visit the Kristie's Foundation website to learn more about the programs it offers, the newly planned Kristie's Place, and how you can make a donation.
About BISNAR | CHASE
The BISNAR | CHASE law firm's California accident injury lawyers represent people who have been very seriously injured or lost a family member due to an accident, defective product or negligence throughout California. The law firm has recovered hundreds of millions of dollars for its clients since 1978 by winning a wide variety of challenging personal injury cases involving traffic accidents, work place injuries and defective products, including defective automobiles, against some of the world's largest companies and governmental agencies. For more information, get a complimentary copy of The Seven Fatal Mistakes That Can Wreck Your California Personal Injury Claim.
# # #