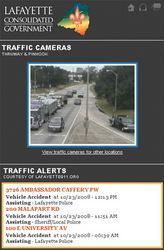 There are any number of ways Google Gadgets can be used
Lafayette, LA (PRWEB) December 1, 2008
Bizzuka, Inc, one of the country's leading providers of Web publishing and content management tools for small to medium-sized businesses, today announced the creation of a Google Gadget for Lafayette (La.) Consolidated Government (LCG).
Residents of Lafayette Parish can now plan their traffic commutes more efficiently and receive real-time public alerts from their local government thanks to the Google Gadget which they can include on their iGoogle home page.
Google Gadgets are miniature objects that provide dynamic content via the Web. This particular one was created for LCG by Bizzuka and shows traffic cameras, 9-1-1 working accidents and fire and other public alerts. While other cities have Google Gadgets showing traffic cameras, this is believed to be the first to show these additional features.
Keith Thibodeaux, LCG's Chief Information Officer, says this first gadget is only "the tip of the iceberg" and that the municipality plans to develop a series of gadgets to use this new technology to "push" information to residents through as many forums as possible.
"We are planning similar applications on Yahoo, Facebook, the iPhone and Blackberry," said Thibodeaux, "so our citizens can keep up to date wherever they are, in the most convenient manner possible." He said that Lafayette Parish residents can load the gadget on their iGoogle home page by going to http://www.google.com/ig/directory?synd=open and doing a search on the term "Lafayette".
John Olivier, Bizzuka's VP of Systems and Development, said that "the LCG approached us with the idea of a Google Gadget, giving us free rein on what to offer." He said they decided that giving residents real-time access to traffic cameras and 9-1-1 traffic alerts should be the priority for the first gadget, but are already exploring additional gadgets for LCG and other clients.
"There are any number of ways Google Gadgets can be used," said Olivier. "Municipalities could include Amber Alerts, hurricane evacuation announcements, and community events, as could Chambers of Commerce." He said that retailers could make good use of gadgets, too, alerting customers to new products and specials. "We see the Google Gadget as an incredibly versatile and efficient communications tool for government, business and individuals to reach out to their key audiences," said Olivier.
About Bizzuka:
Bizzuka has created OnDeCC, (On Demand Content and Components), a web-based content management system that is a dynamic and robust, yet easy-to-use platform that gives small to medium-sized companies affordable access to the sophisticated features and capabilities of systems utilized by Fortune 500 companies. The product also allows clients to take advantage of software upgrades immediately with no additional cost.
For more information about Bizzuka, please visit the Website: Bizzuka.com, or call 337-216-4423.
###