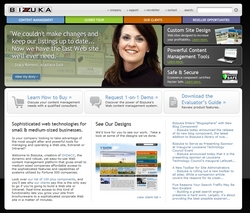 New Marketing Summit attracts the brightest, most connected marketing professionals in the greater New England area, all eager to learn about the best tools and services to improve their ability to do business
Lafayette, LA (PRWEB) July 28, 2008 -
Bizzuka, Inc., a provider of component-based Web content management solutions, today announced its sponsorship of the upcoming New Marketing Summit, to be held in Foxsboro, MA, October 14-15, 2008.
The event centers on the way marketing has changed due to the influence of the Internet, particularly what is known as Web 2.0. It features two well-known authorities on the topic, David Meerman Scott, author of The New Rules of Marketing and PR, and Paul Gillin, author of The New Influencers.
"We are extremely excited to be a part of the New Marketing Summit because we understand the shift that is taking place in terms of how the Internet, particularly Web 2.0, has impacted marketing," said John Munsell, Bizzuka CEO. "The way we market our own company has changed, and we feel that as a provider of Web 2.0 technologies, it is important to support forums like this where companies can learn how to embrace the new trend."
The event will focus on:

Marketing strategy, including use of viral video, social media marketing and conversational marketing;
Emerging technologies, including Internet video, blogs, podcasts, social networks, email marketing and more;
Search Engine technology, including strategies, secrets and best practices.
Game and social niche marketing;
Interactive digital and much more.
"New Marketing Summit attracts the brightest, most connected marketing professionals in the greater New England area, all eager to learn about the best tools and services to improve their ability to do business," said event organizer Rich Erb. "We are excited to have Bizzuka as a sponsor and look forward to helping the company expand its presence into the New England market."
The event will be held at Gillette Stadium, home of the New England Patriots, Tuesday and Wednesday, October 14-15. For information about New Marketing Summit visit the Web site or contact Rich Erb, at (781) 821-6623.
About New Marketing Summit
New Marketing Summit is a two-day marketing conference designed to present the latest trends in marketing innovation including a special emphasis on blogging and social media. For more information visit the Web site: http://www.newmarketingsummit.com
About Bizzuka
Bizzuka has created OnDeCC, (On Demand Content and Components), a web-based content management system that is a dynamic and robust, yet easy-to-use platform that gives small to medium-sized companies affordable access to the sophisticated features and capabilities of systems utilized by Fortune 500 companies. The product also allows clients to take advantage of software upgrades immediately with no additional cost.
For more information about Bizzuka, please visit the Web site: http://www.bizzuka.com, or call 337-216-4423.
###