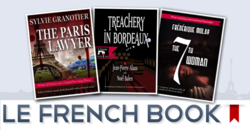 What's the best way to digest that turkey? Le French Book says it's with a great read.
New York, New York (PRWEB) November 20, 2012
Thanksgiving, a time for giving thanks and eating, seeing family and eating, watching football and eating, and then, doing all that shopping on Black Friday and Cyber Monday. All these festivities clearly call for a break, a real break from it all, the kind you get from a great read. The e-book publishers at Le French Book, who set out to bring France's best crime fiction and thrillers to readers across the English-speaking world, have come up with ten reasons why you should read crime fiction during Thanksgiving, not the least of which being the great book deal they are running for five days straight, from November 22 through November 26.
So, why should you read crime fiction during this time of celebrations and shopping?
1) You have a long flight. The airports will be full, the weather perhaps iffy, maybe you're grumpy because the fellow traveler in front of you reclined his seat right in the middle of your mediocre airplane meal, cramming the tray into you belly. You actually want to kill him. Don't. Read a master crime writer's psychological thriller instead.
2) You need to digest that turkey. It may not be reasonable to have another glass of wine, but you can read about it in a great whodunit set in French wine country instead.
3) You don't like football. Some people do, some people don't. What can you say? Read a book instead.
4) You're looking for great holiday gifts to give. When you give your loved one that new ebook reader or tablet, don't forget to give them content too. Test read some ebooks first.
5) You need something to talk to the family about. The meal will be long. You may be having thoughts of serial killers. So why not just indulge in a bestselling police procedural set in Paris that has it's own creepy multiple murderer and alpha hero. It's a great conversation starter.
6) You want a break from all that shopping. You start early in the week with pre-Black Friday sales online, move on the Black Friday deals, and then Cyber Monday bargains. Somewhere in there you need a break, a few clicks and about thirty seconds later you can have a great read from any of the major e-book outlets.
7) Keeping up with the Joneses. Well, yes, the word is getting out about Le French Book, that digital-first publisher specialized in France's best reads in English. They've got prize-winning fiction, an international bestseller, and a series that is already a hit on French television.
8) You know you want to.
9) What's vacation for anyway?
10) There's no excuse not too, with five days of great prices from Le French Book. All their ebooks will be available for $2.99 on all major ebook platforms (Kindle, Nook, iPad, and Kobo). That means you can get three for just about what you would normally pay for one.
Le French Book has released three blockbusters from France:

The Paris Lawyer by Sylvie Granotier, a prize-winning psychological thriller that doubles as a legal procedural. Edgar Award-winning author Thomas H. Cook calls it a "beautifully written and elegantly structured novel about a woman's attempt to unravel the central mystery of her life, and a number of other mysteries along the way."
Treachery in Bordeaux by Jean-Pierre Alaux and Noël Balen, is a classic whodunit set in French wine country. It is the first of 20-book series made for television in France. New York Times bestselling author William Martin calls it "a terrific new series."
The 7th Woman by Frédérique Molay, who is "the French Michael Connelly," according to Jean Miot, the former head of Agence France Press. This police procedural won France's most prestigious crime fiction award, was voted Best Crime Fiction Novel of the Year, and has already sold over 150,000 copies.
About Le French Book
Le French Book (http://www.lefrenchbook.com) is a New York-based digital-first publisher specialized in great reads from France. It was founded in December 2011 because, as founder Anne Trager says, "The recent explosion in e-reader ownership provides a perfect medium to introduce readers to some of these fantastic French authors." Anne has lived in France more than half of her life, has 25 years of experience in the translation business and 15 in publishing. Co-founder Fabrice Neuman is French and the company's tech consultant. He is one of France's foremost proponents of e-books and one of the first French journalists to write about them in the mid-1990s. The core team also includes the American translation editor Amy Richards, who is based in Ohio and has a long, award-winning career in writing and editing.