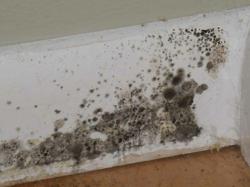 In just two steps of detecting the spores and spraying the product, a hassle-free mold removal could already be completed...
New York, NY (PRWEB) February 06, 2013
Black mold could cause several health problems. Because of that, My Cleaning Products said it is imperative that either a mold professional or mold sufferer should understand how to inspect and remove mold without spending $1,000's. To assist in the mold removal mission, the company shared their mold professionals secret to cutting costs on the mold remediation process. MyCleaningProducts.com stated the procedures will cut costs for both mold remediation professionals and mold sufferers by removing the need to evacuate one's home when their is a mold outbreak.
According to My Cleaning Products, black mold is a serious threat to health. Hence, everyone must be wary of the black mold symptoms. And once its presence is confirmed, the site emphasized that a mold removal must then follow up.
Black mold exposure could cause an array of health problems. The website enumerated headaches, fever, fatigue and allergies as some of those problems that ingesting the spores could bring. In severe instances, it said that inhaling them in could lead to worse health risks as nausea, vomiting and even lung and nose bleeding.
However, MCP stated that despite experiencing those black mold symptoms, one couldn't just jump directly to mold removal. A mold inspection must first take place to confirm the presence of black mold and to know exactly its location. That way, the remediation process is spot on, it added.
To detect where the infestation exactly is, in its published guideline, My Cleaning Products instructed that a person must take discoloration and moldy smell as hints. Explaining that moisture always triggers mold growth, it also directed readers to never forget to check areas surrounding the source of moisture. And before the actual removal, it pressed that any source of that moisture must first be fixed.
But for the process to be successful, the website specified that the right mold remediation product is required. And among the many mold solutions available, it asserted that Molderizer is the right spray to use. It related that unlike the conventional mold sprays, it is made with natural ingredients. Hence, it is safe and requires no evacuation.
As proven by professional mold contractors, Molderizer is also effective and affordable, it added. In just two steps of detecting the spores and spraying the product, a hassle-free mold removal could already be completed, it explained. And because of that, it added that hundreds and even thousands could be cut from a person's mold treatment expenses.
Apart from Molderizer, My Cleaning Products recommended as well the use of Safe Shield. While Molderizer is for remediation, this product is for mold prevention. Detailing that it is also made with organic ingredients, the site said that with it mold prevention is made safe.
To test the effectiveness of the solutions, MCP encouraged the public to try samples of both Molderizer and Safe Shield.
Shoppers could get the green black mold sprays at MyCleaningProducts.com, shared the post.