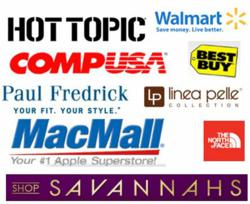 this marks the launch of the all-important 2011 shopping season that consumer have been waiting for.
Columbus, Ohio (PRWEB) October 25, 2011
Horn Outlets Online has posted their first Pre-Black Friday sale as Mac Mall starts the launch of the all-important 2011 shopping season that consumer have been waiting for. This marks the beginning of nine weeks of frenzy as shoppers make their plans for the fast approaching holiday season.
Horn Outlets Online has many great features including industry-leading stores, unique and hard to find items, Amazon, along with the best sales and deals their customers have become accustomed to. Horn Outlets Online is constantly on the lookout for sales and deals and updates them to the online mall, lists them on their Facebook fan page and tweets them out to their loyal customers.
Analysts are predicting that this year will be extremely important to retailers and that the deals available on Black Friday should be very enticing for shoppers. Horn Outlets Online and i Love 2 Shop From Home will be covering all the sales from their well-respected retailers. These sites are open all year long and are dedicated to saving consumers money in all aspects of their daily lives.
Consumers will find the latest holiday shopping bargains and daily-handpicked deals. Over 120 top retailers form around the globe are available including merchants like Best Buy, Wal-Mart, Amazon, Linea Pelé, and Savannahs. Overpaying is just not an option in this economy and Horn Outlets Online strives to provide the best deals that will help consumers get the most out of their budgets.
Amongst the top ten most wanted products on Black Friday are electronic items, and Apple products rank near the top. Consumers are on the hunt for Kindle, Blu-ray DVD player, single-lens reflex digital cameras, game consoles, watches, high-definition television, laptop computers, toys and baby products and household appliances.
Some of the biggest discounts are found on Black Friday and attract online shoppers from around the world. Once the Black Friday sales close on Friday, Horn Outlets Online quickly changes their attention to Cyber Monday, which hosts some of the best online deals following the Thanksgiving weekend, and it does not stop there: Green Monday, Super Saturday, Boxing Day continues the consumer shopping frenzy.
Think about it, before going out to shop on Black Friday, consumers should consider long lines, pushing and shoving, traffic, and cost of fuel. Horn Outlets Online brings the deals right to the comfort of the consumer's home.
Shop here today – bookmark for tomorrow
###