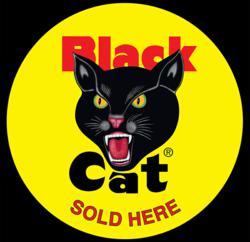 Kansas City, KS (PRWEB) June 20, 2011
Black Cat Fireworks, the #1 most recognized brand for fireworks in the United States, announced that their Fireworks Express website provides a list of State Firework Selling Seasons.
Seasonal Retailers operate locations that are only open on a limited basis to sell customers fireworks. The dates listed in the attachment are the sale and pick up dates allowed by State laws for Seasonal Retailers only. An asterisk ( * ) indicates Seasonal Retailers are not restricted on selling dates. The opening and closing dates of June 24 - July 4 and Dec. 26 - Jan. 1 are used as generally accepted selling season guidelines.
Fireworks Express is available to online shoppers year round with outlets nationwide offering a wide range of fireworks. Many retail locations are seasonal and these locations that allow online shopping are now appearing live for customer shopping pleasure and convenience.
For a complete list complete list of Black Cat® fireworks for sale, as well as other carried brands, by Fireworks Express partners go to the website FireworksExpress.com. The retailers here are frequently adding new items to their product list so consumers should be sure to check back frequently for new listings.
Black Cat® fireworks have been recognized by both the Industry and the Consumer as the Premium Brand for over 50 years.
# # #