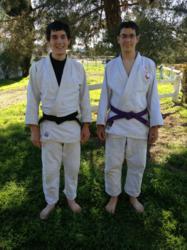 "You make a living with what you get: You make a life with what you give"....Winston Churchill
Redmond, WA (PRWEB) July 30, 2012
Peter and Janos Kabai have learned the value of practicing Judo. Not for the obvious reasons but for the lifelong values we all seek: Confidence; How to make Commitments; Character Development; Humility; Respect and Responsibility. Their goal is to bring awareness not only of the sport but funding to introduce Judo to all blind children, young adults and our wounded warriors returning from the war zones, of the mission of the Blind Judo Foundation Judo isn't necessarily a sport one would consider for the blind. Yet, it is a natural for the blind and visually impaired individuals. Where can one go to learn confidence and enhance independence?
The Kabai brothers are from CA and wanted to start their journey from NYC. Therefore, they shipped their bikes and camping material to NYC to start their journey. They also created their own website http://www.GoJudoka.com for everyone to follow them and make donations in support the Blind Judo Foundation. Donations can also be made at http://www.blindjudofoundation.org/support.php
Bicycling across the USA will bring awareness not only of the sport of Judo but also to an organization that specializes in training the blind and visually impaired in the sport of Judo called the Blind Judo Foundation The Foundation is a nonprofit 501(c) (3) organization with two Co-Founders: Willy Cahill, is the former US Olympic Judo Coach and former US Paralympic Judo Coach. Cahill has over 60 years of experience in the sport and is the only US Judo Coach that has brought home Gold for America in this sport. It wasn't at the Olympics but at the 2000 Paralympic Games in Sydney, Australia: two Gold Medals, one Silver and one Bronze Medal. It was done with blind athletes.
The Kabai brothers want to give back to the sport of Judo and are determined that this summer journey bicycling across America is a great start.
More about the Blind Judo Foundation can be found at http://www.Facebook.com/BlindJudoFoundation
Be sure to follow Peter and Janos Kabai via their GPS at http://share.findmespot.com/shared/faces/viewspots.jsp?glId=0mv2hnKGcNCRRE5CuEmAJD6uI4Du3k001
Thank you!