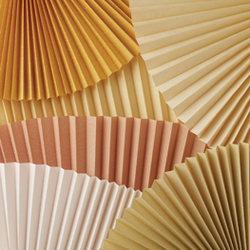 (PRWEB) September 24, 2009
Inspired by the natural beauty of Bali, these luxurious fabrics have been hand selected to bring a touch of paradise to any conservatory. These beautiful Pleated fabrics combine the traditional look and feel of woodweave Pinoleum and natural woods with all the benefits that come from stylish and functional Pleated Conservatory Blinds to give you the ultimate shading solution for your conservatory.
Available in Woodweave and Bark effect, The Bali collection is available in 14 different colours, all exclusive to Thomas Sanderson. The high quality jacquard woven fabrics create detailed texture patterns for a truly natural feeling so now you really can bring the outdoors in.
As well as looking stunning these new fabrics are also extremely practical too. Backed with a pearlised reflective surface the fabric can effectively reduce the passage of light, heat and UV. This gives the added benefit of keeping your conservatory warmer in the winter by keeping the heat in and cooler in the summer by reflecting the sun's harmful rays. Each blind is individually handcrafted to the exact measurements of your roof and window so Thomas Sanderson guarantees a perfect fit every time. This attention to detail means that Thomas Sanderson can fit to any window, roof or shape in your conservatory.
The exclusive Bali collection of Conservatory Blinds by Thomas Sanderson is available now.
About Thomas Sanderson
Since 1991, Thomas Sanderson has grown from a family run business to an international company offering products and services throughout the UK and Ireland. The company is Europe's largest manufacturer and supplier of Conservatory Blinds in addition to supplying Window Shutters and Window Blinds.
Thomas Sanderson has remained true to its roots offering a local service and continuing to make its relationship with each and every customer its main priority, The company takes pride in ensuring the standards of service on offer match the high standards of its products.
Established as the market leader for almost 20 years, Thomas Sanderson has developed 'refer and reward' partnerships with over 1300 home improvement specialists, allowing them to offer their customers a complete range of products that add the finishing touches to any home.
# # #