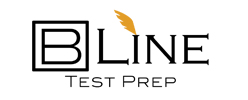 Free SAT prep can have a big impact on test scores.
San Diego, CA (PRWEB) October 10, 2011
The SAT is more than 100 years old and has been studied to the point of becoming almost a science. B Line Test Prep believes it to be arguably the most important exam a high school student will take, having a far-reaching impact on one's life. It would be unwise to not fully prepare for something so important, and even basic understanding and casual knowledge from free SAT prep can have a big impact on test scores.
The SAT is split into three sections: critical reading, mathematics and writing.
Critical reading consists of two 25-minute and one 20-minute sections with 19 sentence completion questions and 40 reading comprehension questions. While going through the reading passages, don't worry about memorizing details. Highlight key points, take notes and refer back to the material as much as needed. As the test progresses, questions become more difficult. Therefore, more time should be spent on questions at the end of the test. As a rule, skip questions deemed difficult or too time consuming and come back to them later. Leaving a question blank isn't as bad as not having a chance on questions you might have answered correctly.
Mathematics
The math required for the exam isn't so advanced, but it must be done quickly and with clear thinking. The time window, two 25-minute tests and one 20-minute, is the biggest problem for most students. Working efficiently is key: answer easy questions first and come back to hard ones. Easy questions usually precede hard ones. Practice will help with working efficiently - the test doesn't repeat questions from exam to exam, but you will recognize the types of questions asked. Over time you will improve at those types.
Writing
The essay is quite standard, but basics can be forgotten when writing a rushed essay. Throwing in relevant vocabulary words will help boost scores. Write neatly and used as much space as possible. Basic essay structure applies: introduction, body paragraphs and a conclusion. Don't waste time worrying about whether examples are perfect, but do be sure your examples support your thesis.
About B Line Test Prep
Founded in 2009, B Line Test Prep's mission is to give all students the opportunity to prepare for the SAT on their own schedule, free of cost. Anyone can enroll in online SAT prep course and get animated feedback after each question is answered and track their progress to gauge success. B Line Test Prep is a privately held company and is headquartered in San Diego, California. For more information, please visit blinetestprep.com or contact us at 619-487-9400.
###