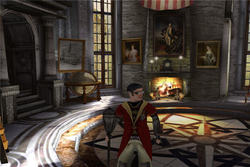 We are not talking here about simply customizing a pre-built 3D apartment
Mission Viejo, Calif (PRWEB) June 27, 2008
Pelican Crossing, Inc., a leading supplier of technology for developing and viewing Web-based virtual worlds, today announced the immediate availability of version 2.0 of its flagship product Blink 3D®, a virtual worlds development platform.
The new release includes Pelican Crossing's new inDuality client, which forms the cornerstone of its upcoming inDuality platform. The inDuality client allows users to embed virtual worlds from different vendors in any Web page. The initial release of inDuality supports Blink 3D virtual worlds, subsequent releases will add support for other virtual worlds, such as Second Life® . In October last year, at the Virtual Worlds Conference in San Jose and the Virtual Worlds Forum in London, Pelican Crossing demonstrated an alpha version of inDuality and the ability to teleport between different virtual worlds, including Blink 3D, Second Life, X3D and the Flash® based Club PenguinTM.
Some of the new features in Blink 3D's version 2 include:
Orthographic Views with Drag and Drop Support for fast positioning and texturing of objects
Improved asset creation pipeline, with support for Automatic Asset Importing & Synchronization
New video material formats: Flash video .flv and YouTube video, in addition to HTML materials
Over forty new and enhanced Behaviors including support for Google Analytics
Morphing
New Video Tutorials, Code Examples, Knowledge Base Articles and Extensive Documentation
Version 2 comes with a new pricing structure, offering: Blink 3D Standard edition at $399, Blink 3D Lite edition at $199 and the Blink 3D Ultra Lite edition for free. Blink 3D V2 can be downloaded today for a free 30-day trial. Educational discounts at 50% are also available.
"We are not talking here about simply customizing a pre-built 3D apartment," said Jackson, CEO of Pelican Crossing, "with Blink 3D you can create whatever sort of virtual world you want, quickly, easily and for free. With Web-based virtual worlds there is no land to purchase or membership fees to pay. Simply create your virtual world, link to your friends, put it on your Web site, stir and enjoy."
Blink 3D can be used to quickly create secure and branded virtual worlds by enterprises, for internal use behind a firewall or for Business to Customer or Business to Business applications. Blink 3D can easily be used by both amateurs and professionals for creating personal virtual worlds.
About Pelican Crossing, Inc.
Established in 2002, Pelican Crossing is a leading provider of products for the creation and viewing of Web based virtual worlds and 3D environments. For further information, please visit our Social Media Press Room.
###