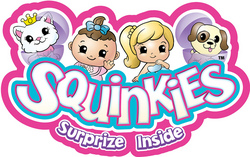 Minnetonka, MN (PRWEB) January 5, 2011
Blip® Toys, the innovative toy company behind the hugely successful line of Squinkies™ collectible figures, has granted Activision® Publishing, Inc. the exclusive worldwide rights to develop, manufacture and distribute video games based on the Squinkies brand and characters. The agreement covers entertainment software products across multiple platforms such as handheld, console and connected platforms, as well as PC and mobile devices.
The new Squinkies video games are expected to debut throughout 2011, with the first Nintendo DS title for girls releasing in April 2011.
"We are very excited to partner with Activision, whose video game titles continue to break sales records," said Bill Nichols, CEO of Blip Toys. "They truly understand Squinkies and have successfully translated the highly collectible nature of the brand into an interactive gaming experience that girls will love!"
"We are proud to partner with Squinkies, which are one of the hottest toys of this past holiday season," said David Oxford, Activision Publishing. "Squinkies line of figures lends itself perfectly to video games, and we are excited to deliver new interactive experiences that will further engage girls with the brand."
Squinkies fans can stay up-to-date on all the latest Squinkies news by visiting Squinkies.com, or by following the Squinkies Blog, Squinkies Facebook page, or the Squinkies Twitter feed.
About Blip® Toys
Established in 2000 and headquartered in Minnetonka, Minnesota, Blip Toys is a fast-reacting, trend-driven toy manufacturer. The company is focused on developing innovative new products that appeal to both boys and girls. Blip Toys strives to produce high quality products at great values. Blip Toys current product line includes Squinkies, Whimzy Pets, Zubber, Hair Balls, Zoom-O, Friends Boutique, and other popular toys for boys and girls. The company also produces Lego® branded children's furniture and play mats under license from the Lego Group. Visit Blip Toys at http://www.bliptoys.com. Squinkies™ is a trademark of Blip LLC. ©Blip 2010. All rights reserved.
About Activision Publishing
Headquartered in Santa Monica, California, Activision Publishing, Inc. is a leading worldwide developer, publisher and distributor of interactive entertainment and leisure products. Activision maintains operations in the U.S., Canada, the United Kingdom, France, Germany, Ireland, Italy, Sweden, Spain, Norway, Denmark, the Netherlands, Australia, South Korea, China and the region of Taiwan. More information about Activision and its products can be found on the company's website, http://www.activision.com.
###