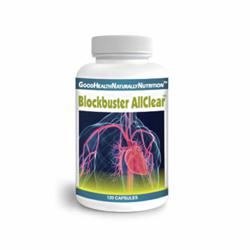 German studies have found serrapeptase may be useful in treating arterial plaque
London, UK (PRWEB) August 31, 2012
It's not the newest, nor is it a product supported by racy adverts or a PR campaign, yet it's the firm favourite with customers, say online retailers, The Detox Shop. Sales of serrapeptase enzyme therapy products are strong and consumers now have a wide range of choices including serrapeptase-only formulas like SerraZyme, anti-inflammatory formulas like the recently launched Serranol, as well as arterial plaque targeting formulas like Blockbuster AllClear.
"Blockbuster AllClear was one of the first products on the market of it's type," explained Misae Richwoods of The Detox Shop. "As such it's biggest strength has been word of mouth. Plenty of us have loved ones who love their fatty and fried foods a little too much and while there's no replacing a healthy diet and exercise, German studies have found serrapeptase may be useful in treating arterial plaque".
The late German physician, Dr. Hans Nieper, used Serrapeptase to treat arterial blockage in his coronary patients. Serrapeptase protects against stroke and is reportedly more effective and quicker than EDTA Chelation treatments in removing arterial plaque according to author, broadcaster and formulist, Robert Redfern. The UK National Health Service, the NHS, states that almost all adults have at least some level of arteriosclerosis, with over 124,000 deaths a year in the UK being attributed to cardiovascular disease. In the USA, almost three quarter of a million people a year die of conditions related to build up of fatty deposits such as cholesterol in the arteries, including heart disease and stroke according to the US Centre for Disease Control.
The Detox Shop strongly advise that individuals to regularly have their blood pressure and cholesterol checked by their doctor or GP. Exercise regularly and avoid fatty foods, particularly fried or deep fried meat.