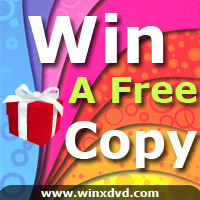 With sincere hope to help bloggers, webmasters, administers and editors to increase visits and interaction, Digiarty offers HD video converter in April for them to conduct exclusive giveaways.
(PRWEB) April 24, 2013
Winxdvd.com, a reputed multimedia software developing group, proposes an exclusive software giveaway offer on the internet. April's prize is the WinX HD Video Converter Deluxe, 5-50 license codes of which are available for anyone interested in launching a reader contest on their website, blog, forum, Facebook/Twitter page or YouTube channel.
An exclusive giveaway is an effective way to increase visits and interaction on websites, blogs, forums, etc. Thus, the company is currently offering a chance to any blogger, webmaster, administer or editor to conduct giveaway contests. From this day forward, each qualified participant can receive the license keys of the DVD ripper, video converter, or iPhone Android related software, currently running on both Windows and Mac.
To win free copies of WinX HD Video Converter Deluxe in April, 2013, please go to:
http://www.winxdvd.com/win-free-copy/
WinX HD Video Converter Deluxe is a professional and versatile video conversion tool with functions to convert high and standard definition videos like MKV, AVCHD, M2TS, AVI, MP4, MOV, download online YouTube/Dailymotion videos, burn videos to DVDs, etc. It has extra facilitation for the users of an iPhone, iPad, iPod, Android, WP8, or Google Nexus 7, with special device profiles to support portable video playback.
WinXDVD also announced the specific rules and conditions of this giveaway offer:

Qualification: Any blogger or website/Forum/Facebook/YouTube channel owner with a Giveaway or Contest category
Reward: 5-50 copies of top-ranking software product from Digiarty, based on one's traffic, rank, and subscribers/fans
Way to Participate: Fill in the form on the lower right corner of the activity page, and click "Send" button
Other Tips:
1. Available prizes change on a monthly basis - different software each month;
2. If anyone agrees to do high-quality software review for the company, he/she will get a reciprocal link and more;
3. The participants shall not disclose the license codes in public.
Price and Availability
Throughout the entire month of April, every requested owner of website, forum, Facebook/Twitter page and YouTube channel or blogger can get 5-50 copies of WinX HD Video Converter Deluxe worth $49.95 for exclusive giveaway running. Send the request form now at http://www.winxdvd.com/win-free-copy/
About Digiarty Software, Inc.
Digiarty Software, Inc. is specialized in multimedia software based on Windows, Mac OS and iOS6, which provides personal and home used video audio software across Apple iPhone, iPad, Sony PSP, PS3, Xbox, Droid platforms and devices, including DVD Ripper, HD Video Converter, DVD Author, and DVD Copy, etc. Digiarty's Giveaway Offer program aims at helping bloggers and website owners grow subscriptions and followers online.