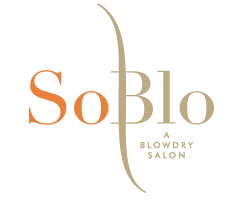 Boca Raton, FL (PRWEB) March 09, 2013
SoBlo, A Blowdry Salon has rolled-out a New Menu of Services. SoBlo offers a wash, dry, and style that keeps their clients looking great without missing a beat. No cuts, no dye, just blowdry is their motto.
The SoBlo Blowdry Salon is set-up so that women can drop-in and have services performed quickly, and get back to the office. Imagine enjoying a "SoChill" rejuvenating Scalp Massage, which will only take 10-minutes. There is always time for a "Quickie", which is a touch-up, refresh and dry style. Feel the self-confidence get a boost when the mirror shows a reflection of beauty.
The Menu of services represents the finest in hair and scalp creativity and treatments. The "SoDeep", is a deep conditioning treatment that will change the feel of a persons hair. How about an "UpDo", to get ready for that big conference in the afternoon. Every blowdry is set at a fixed-price, no matter if a persons hair is thick, thin, straight or curly, with a shampoo included.
SoBlo is the place for a formaldehyde-free Keratin Complex Treatment, which builds stronger, smoother and more radiant hair. The structure of the hair is actually rebuilt by the fusing of the keratin to existing protein bonds in the hair. This means elasticity returns, and breakage is reduced. Great for hair that has been through over-processing, such as permed, highlighted, straightened or relaxed hair.
Complete information is available on the website: The SoBlo Difference
Media Contact:
SoBlo
2240 NW 19th Street
Boca Raton, FL 33431
561.995.1525