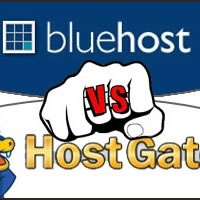 San Francisco, CA (PRWEB) March 15, 2013
Top-Cheap-Web-Hosting.com (TCWH), a leading independent web hosting review & rating site, today, published the comparison between BlueHost and HostGator for the Linux-based shared web hosting plans based on the web hosting features, speed, reliability, customer support, and price, based on their editors' real hosting experience and the 400+ customer reviews.
In our editors' real hosting experience, HostGator is larger than BlueHost in size, but BlueHost shared web hosting is much more cost effective than HostGator.
BlueHost and HostGator are both the well-known web hosting companies with 10+ years' experience taking a big piece of the web hosting field designed for personal and small business. Right now, BlueHost is serving for 2.5 millions of customers and HostGator is serving for 4 millions of customers. The difference is that BlueHost is only providing a single all-in-one unlimited shared web hosting plan based on Linux platform, while HostGator is providing 20+ products including shared web hosting, VPS, dedicated server and reseller hosting based on both Windows and Linux platform.
# BlueHost is More Cost Effective than HostGator
BlueHost web hosting is starting at $6.95/mo regularly, but now it's offering a 44% discount for $3.95/mo for all the readers going through this BlueHost exclusive promotional link. It includes a free domain name, $100 Google AdWords credits, $50 Facebook advertising credits, and allows users to host multiple websites on 1 account.
Compared with BlueHost, HostGator has 3 web hosting plans named as Hatchling, Baby and Business. HostGator advertises the web hosting plan starting at $3.96/mo, but actually the economic Hatchling plan only allows users to host 1 website on the primary domain name. The HostGator Baby plan provides the similar features as BlueHost, but it's pricing at $6.36/mo, $7.16/mo and $7.96/mo for 3/2/1 years plan. Particularly, HostGator charges the Baby plan for $9.95/mo in renewal. Meanwhile, HostGator doesn't include a free domain with all the web hosting plans that the customers need to pay additional $11.95/year.
# BlueHost Has Better Technology than HostGator
HostGator provides web hosting service by partnered with SoftLayer for all primary data centers and network-provider services. HostGator declaims that the long standing relationship with SoftLayer allows HostGator's customers to utilize one of the world's best networks to power their websites and ensure max hosting uptime. However, BlueHost has invested 20+ millions of USD on building a world-class data center in Provo Utah since 2010 with 8,000+ 100% DELL servers and the internet bandwidth exceeding 150,000 MBits to power the professional web hosting service.
Meanwhile, BlueHost is the only shared web hosting company which customized Linux Kernel successfully for an innovative technology named as "Server Resource Protection Technology" which efficiently prevents the heavy users on each shared server and protect shared hosting users from slowness or downtime due to the unmanaged server resource consumption.
To learn more about the comparison between BlueHost VS HostGator on the Linux-based web hosting plans, visit http://www.top-cheap-web-hosting.com/web-hosting-guide/bluehost-vs-hostgator
About Top-Cheap-Web-Hosting.com
Top-Cheap-Web-Hosting.com (TCWH) is an independent web hosting review site, rating hosting companies based on the true experience and the real customer reviews, designed to help personal and small businesses find the best cost effective web hosting.