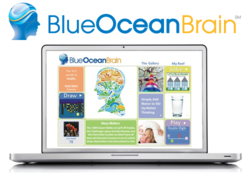 Critical thinking and creativity are top skills needed for employees to help organizations succeed according to top CEO's.
Richmond, VA (PRWEB) March 31, 2013
BlueOceanBrain.com, a leading corporate brain-fitness solution, announced today the release of their new Blue Ocean Brain Trainer, a mobile web application that offers employers a unique brain training experience for their employees on-the-go.
Employees can access the Blue Ocean Brain Trainer on any mobile device. The application integrates with the complete brain training system. Employee progress is tracked as they compete together on a variety of intellectual challenges.
Unlike other static brain training systems, Blue Ocean Brain offers 10 minutes a day of unique customizable content for companies 365 days a year. Blue Ocean Brain blends brain-healthy information, cognitive challenges and career development exercises for companies that seek to give their people a performance edge.
"Grounded in the latest neuroscience, our team of clinicians, leadership development executives and developers creates amazing learning experiences with an eye on employee engagement. Serving up expert content in bite-size pieces is part of our secret sauce," says co-creator Claire Herring. "As the economy continues to recover, employers are looking to drive innovation and ramp up operations. Blue Ocean Brain can be an important part of building a high-performance culture."
Learning strategists point to how people will learn in the future. Informal learning and hands-on self-directed exercises are better able to drive knowledge transfer and improve employee performance in ways that impact organizations.
"Employees see Blue Ocean Brain as a perk. Company leaders see it as an effective way to enhance employee performance. That's a terrific combination," says Gemma Brooks, co-creator of Blue Ocean Brain. "We even have users who regularly login to the site on the weekends. They report that it provides a way to energize their mind and broaden their perspective – and for those competitive users, staying on top of the company leaderboard matters to them too."
About BlueOceanBrain.com
The Rowing Team, LLC is the cognitive development company behind Blue Ocean Brain. The programs are developed by clinicians and business leaders and are grounded in the latest neuroscientific research. A growing client list spans retail, healthcare, information technology, and professional services industries. Their offices are located in Richmond, Virginia. For more information visit http://www.BlueOceanBrain.com.