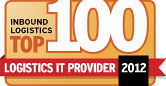 Our customers don't have to wonder if the approach they're using will work, because we've proven it successful with hundreds of companies…that's the way software ought to work.
Atlanta, Georgia (PRWEB) May 01, 2012
Leading global SaaS inventory solutions provider Blue Ridge today announced that it has been named an Inbound Logistics Top 100 Logistics IT Provider for 2012.
Atlanta, Georgia-based Blue Ridge Inventory has been named Top 100 Logistics IT Provider by Inbound Logistics. The publication awards this designation to the leaders who best understand and respond to the unique challenges of logistics and supply chain management.
Every April for the past 16 years, Inbound Logistics editors have recognized 100 logistics technology companies that enable logistics and supply chain excellence. Drawn from a pool of more than 300 companies, Blue Ridge was recognized by Inbound Logistics for leading the way in 2012 and positioning enterprises for the years ahead. Blue Ridge excels at providing solutions that drive supply chain excellence and answers IL readers' need for simplicity, ROI, and efficient implementation. Editors search for companies where logistics and supply chain is core. All companies selected reflect excellence through their Software-as-a-Service capabilities.
The number of submissions for the award reflects a continuing trend—the demand for truly innovative IT providers is growing. During a time when logistical decision-making is becoming increasingly complex, more companies are turning toward SaaS providers like Blue Ridge because they recognize the need for agility as well as comprehensive solutions. Inbound Logistics' editor Felecia Stratton recognizes the increased intensity, "How does a big company expand markets and compete with more entrenched competitors? How does a small company compete with a larger company? How can today's business logistics managers boost supply chain performance and customer service while cutting overall logistics costs? By utilizing the best in logistics technology," states Stratton. Many third party logistics providers are turning towards SaaS solutions instead of developing internally or capitalizing legacy-licensed software.
Among the Top 100, Blue Ridge leads the way in enterprise-class SaaS solutions. The company delivers demand forecasting, planning and replenishment solutions that utilize a unified, demand-driven approach to inventory optimization by capturing customer-centric activities across the enterprise or between trading partners. The cloud-based demand analytics, along with fully-integrated, proven planning and replenishment methodologies provide a sound foundation on which companies can solidify and enhance their supply chain initiatives.
The Blue Ridge SaaS solution delivers both uniquely configurable architecture and proven best-practice driven by unmatched industry expertise. Blue Ridge CEO, Greg White believes this is the future for software, "Robust configuration removes the need for custom code, while the proven techniques in our foundation remove risk for our customers." Continues White, "Our customers don't have to wonder if the approach they're using will work, because we've proven it successful with hundreds of companies…that's the way software ought to work." White believes that this approach leads to stronger and more dramatic improvements, without the significant disruptions of legacy-licensed software. This approach can lead to dramatically improved demand fulfillment and product availability, rapidly driving game-changing results, as seen in the company's customer testimonials.
About Inbound Logistics
Inbound Logistics is the pioneering publication of demand-driven logistics practices, also known as supply chain management. IL's educational mission is to guide businesses to efficiently manage logistics, reduce and speed inventory, and neutralize transportation cost increases by aligning supply to demand and adjusting enterprise functions to support that paradigm shift. More information about demand-driven logistics practices is available at http://www.inboundlogistics.com
About Blue Ridge Inventory
Blue Ridge leads the way in enterprise-class Software-as-a-Service supply chain solutions. Blue Ridge solutions and services turn inventory investments into cash flow and revenue generation opportunities. The company's robust cloud-based solutions deliver a tightly-integrated, yet flexible architecture for demand analytics, forecasting, planning, replenishment, SKU rationalization and other demand-driven optimization solutions to provide a sound foundation on which companies can solidify and enhance their supply chain initiatives. To find out why global supply chain leaders such as Burris Logistics, CRP Industries, Europris, Home Hardware, K. Ekrheim, Lovenskiold, Martin Brothers and Procurator trust Blue Ridge and its unmatched expertise as their inventory alignment partner, visit http://www.blueridgeinventory.com