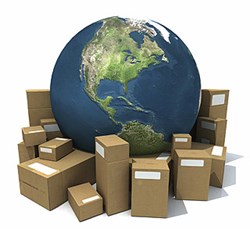 Bluesea Shipping Lines was set up with a vision to connect the world, and every day we are inching closer to our goal
CA, USA (PRWEB) March 01, 2013
Bluesea Shipping Lines has announced the inclusion ports of Central and South America among its major shipping destination. The company has spread out its services to La Guairá, Puerto Cortes, Caldera, San Jose, Acajutla, San Salvador, Valparaiso, Guayaquil and Monte Video.
South and Central America are world renowned for housing culturally, racially and ethnically diverse cultures and people. The land has been a host to not just the natural inhabitants of South America, but has been immensely kind and welcoming to the peoples of Europe, Africa and Asia. South America also entraps rich reserves of natural resources, which have lured many multinational companies to set up their business centers on this land.
South America has witnessed a tremendous economic as well as infrastructural growth in the past few decades. It is speculated to soon emerge as one of the most developed and technically advanced continents of the world. Thus, South America is the new upcoming "Super Continent", due to which people from all across the globe are migrating into South America to turn the gift nature into gigantic profits.
Therefore, after witnessing the huge success of its services in other parts of the globe; Bluesea Shipping Lines has extended its cargo shipping services to ports of central and South America on popular demand. As per the CEO, "Bluesea Shipping Lines was set up with a vision to connect the world, and every day we are inching closer to our goal".
Shipping to La Guairá, Shipping to Puerto Cortes, Shipping to Caldera, Shipping to San Jose, Shipping to Acajutla, Shipping to San Salvador, Shipping to Valparaiso, Shipping to Guayaquil and Shipping to Monte video; is now effortlessly possible with Bluesea Shipping Lines. Also, with fairly liberal sea trade laws levied by the authorities in Central and South America, it is fairly easy to import and export goods and cargoes into the land. Thereby, facilitating better opportunities for business expansion.
Bluesea Shipping Lines is a trusted name in the shipping company. They are highly acclaimed due to their high quality unparalleled service and competitive shipping tariffs. Also, the company enjoys an impeccable reputation, for housing the most proficient and qualified legal department; who are reputed in the industry for putting across some of the most practical solutions to even the rarest challenging situations. Bagging custom clearances are a specialty of the legal advisors at Bluesea Shipping Lines.
About Worldwide Services
Bluesea Shipping Lines, Inc came into existence in the year 1980, with the sole objective of facilitating seamlessly shipping goods all over the world. Within a duration of 34 years, Bluesea Shipping Lines has a respectable reputation and fame in the industry for their world class packing, crating and storing facilities for goods, cargoes etc. With A promise to provide economical, fast and hassle-free shipping of goods, Worldwide shipping services is determined to expand out of its existing territories, so as to spread their services all across the globe.
For now more, visit: Shipping to Central and South America
LAN Services is an Online Marketing partner of Bluesea Shipping Lines, Inc. The webmasters at LAN Services optimize the websites for their customers effectively to increase the visibility in all the major search engines like Google, Yahoo and Bing. At LAN Services, the team ensures that one's website seen by millions of people worldwide.
Contact information:
Bluesea Shipping Lines, Inc
6103 Obispo Ave,
Long Beach,
CA 90805
Tel: [562] 272-4800
Fax: [562] 272-7330
1-800-222-7014
http://www.worldwideshipping.com