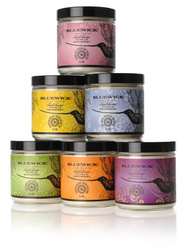 Our new collections offer generous sizes at incredible value and what's even better - we've said goodbye to excess packaging. No more fancy boxes, bows or tassels. We focus now on what we see our customers needing - superior fragrances at tremendous value
Los Angeles, CA (PRWEB) November 15, 2010
Bluewick Home & Body Company of Los Angeles, a specialized home fragrance manufacturing company, today announced that it has developed a new line of environmentally focused products geared toward the post recession consumer.
The new range of products, available in four collections, is offered in the new "EcoJar" format. A straight sided, domestically sourced, recycled glass container with cap closure.
The EcoJar candles are crafted in small batches and feature a premium all vegetable base wax with double, organically grown, lead free, cotton and paper core wicks. Scents used in the new collections are extensive collaborations with the finest fragrance houses in the country and offer a variety that extends to the most popular fragrance categories today. From lively citrus to beautiful floral, fragrances include Guavapeel, Yuzu, Amber/Sandalwood/Sage, Lemon/Rosemary/Vanilla, White Jasmine/Lotus and Peony/Black Currant.
"We are very excited to offer this new range of products to our customers. With limited disposable income, many people are finding it increasingly difficult to pamper themselves. About five years ago there was never a question when it came to spending $35 on a scented candle. Today, those little luxuries seem so unreachable to the average consumer that we thought we needed to address this demand now. Our new collections offer generous sizes at incredible value and what's even better - we've said goodbye to excess packaging. No more fancy boxes, bows or tassels. We focus now on what we see our customers needing - superior fragrances at tremendous value", said Art Maruyama, President and Managing Member, Bluewick Home & Body Company.
After the pleasures of enjoying an EcoJar candle have passed, the jar lives on and can easily be re-purposed. "Once you're done enjoying your scented candle, simply remove the label and the container can be completely recycled or reused. The genius behind the EcoJar is that it begins its next life of service as a convenient household organizer. The truth is, there are so many useful ways to implement the reuse of the container it's wonderful".
Bluewick EcoJar candles are available in five collections: Tarro, Tarro Holiday, Groove Everyday, Original Signature and the new Ali Collection launching Spring 2011. EcoJar candles are available in a 16 oz. double wick cylinder with twist cover ($19.00; burns for approximately 100 hours). Also available are 4.5 oz. Fragrance Diffusers ($25.00 with life span of 6-9 months).
About Bluewick
For over a decade, Bluewick has been a leader in the specialized home fragrance industry. Founded by Art Mauryama in 1998, the privately owned company continues to enjoy a loyal following and has a strong reputation for excellent craftsmanship and customer support. Bluewick products can be found at nearly 2000 fine retailers nationwide. For more information on Bluewick, visit http://www.bluewick.com. Bluewick can also be found on Facebook and Twitter.
###