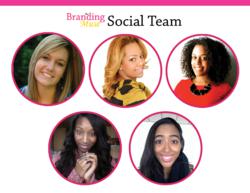 With this new internship, I am confident that I will strengthen my qualities and set myself apart as an innovator in my respective field
Washington, DC (PRWEB) January 20, 2013
The Branding Muse is pleased to announce its selection of the spring 2013 class of the Branding Muse (BM) Social Team. This internship program will focus on career building tasks, soft skills training, goal-setting support and a unique 6-week personal branding course. The four interns have been chosen from a pool of applicants because of their tenacity, commitment to helping others and eagerness to learn about communications and personal branding.
The semester-long program runs from January 22 – May 17 and the young women will learn to develop digital campaigns, contribute to social media postings and blog posts and own projects that will enhance their resumes and portfolios. To learn more about the BM Social Team, visit http://www.thebrandingmuse.com/our-team.html or keep up with them on Twitter using the #BMSocial hash tag
Meet the 2013 Class of The BM Social Team
Arianna Jade Dussie, Strategic Marketing Intern, is a recent alumna from Stony Brook University with a Bachelor's degree in English. Currently working full-time in NYC, she is interested in branching out to launch her career as an entrepreneur with an online fashion company.
"As someone who has garnered motivation and inspiration from the Branding Muse, I am delighted to be the new Strategic Marketing intern. I am excited to learn how to better my networking, digital, and most importantly brand development skills. With this new internship, I am confident that I will strengthen my qualities and set myself apart as an innovator in my respective field," she said.
Katie Quinn, Community Management Intern, is currently a sophomore at Ohio University in the E.W. Scripps School of Journalism. She is pursuing a degree in Strategic Communications and hopes to continue her career in Marketing and Communications in New York City.
"I am so excited to start my position as the Community Management Intern! I cannot wait to start developing the Brand Ambassador Program and be able to share what Branding Muse has to offer for other students. I am looking forward to learning how to enhance personal branding on all social media outlets. I am hoping the skills I learn at Branding Muse will help my personal brand for the rest of my time in college and beyond," she said.
Emelia Armstead, Public Relations Intern, is a sophomore at the S.I. Newhouse School of Public Communications studying toward a degree in Public Relations with minors in Marketing and French. She plans on a career working in publicity in the arts and entertainment field.
"I am absolutely thrilled to have been offered this position. I can already tell that the work I'll be doing with the Branding Muse will be invaluable experience to hold onto for the rest of my professional career. I'm most excited to learn how to hone in on a personal brand. In my public relations classes, I've learned how to use a SWOT analysis to define the strengths, weaknesses, opportunities, and threats of an organization. I look forward to using tools like this to take a personal brand to the next level," she said.
Fatima Toure, Programming Intern, is a communications major at Buffalo State College. In the future, she hopes to develop an organization that will bring awareness and understanding of African countries and the issues that affect their women.
"When I first found out I got the internship, I was super excited. I felt like I accomplished something I needed to. I felt like it's both a challenge and a blessing to have this opportunity. A challenge because it's something new for me and it will test both my strengths and weaknesses, but a blessing because it gives me a chance to have experience in a field I want to spend the rest of my life in. The one thing I want to learn the most about personal branding is how to maintain support from my audience. It's so easy to make your own brand but to keep the audience interested is the real test. I want to learn how I can keep my audience captivated and wanting more at the same time staying true to the brand and what it stands for," she said.
About The Branding Muse
The Branding Muse works to assist college students and young professionals with the development of their personal brands. By creating resources to simplify personal branding, The Branding Muse empowers its community to take control of their online and offline presence with free branding resources and events. To learn more, visit http://www.thebrandingmuse.com