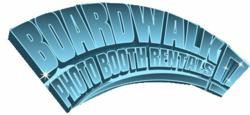 NORTHFIELD, NJ (PRWEB) December 21, 2012
Boardwalk Photo Booth Rentals was recently selected as the winner of both the WeddingWire's Brides Choice Award for 2012 and The Knot and Wedding Channel's Best of Photo Booths for 2013.
Both of these awards recognize the best local wedding vendors, as voted on by thousands of recent newlyweds. As the WeddingWire's website explains, "..the WeddingWire Bride's Choice Awards™ are determined by the quality, quantity, recency, and consistency of reviews from over 1.2 million WeddingWire newlyweds. The 2012 award recipients represent the top five percent of WeddingWire's vendor community, which consists of over 200,000 wedding professionals throughout the US and Canada." As a winner of the WeddingWire Bride's Choice Awards™ as well as The Knot and Wedding Channel's Best of Photo Booths, Boardwalk Photo Booth Rentals has proven to be a leader in the photo booth rental industry.
Boardwalk Photo Booth Rentals provides the best photo booth services from start to finish. From reasonably priced photo booth rentals to high quality photo prints and a simple booking process, this company understands the stress of planning an event, and works hard to make its services as convenient as possible for its customers. One newlywed couple who used the company's services stated, "The photo booth we rented from Boardwalk Photo Booth made our wedding truly a memorable experience!! We received tons of compliments from our guests and it was definitely a highlight of our wedding reception." Another recent customer had nothing but positive things to say about the company's owner and staff, "Scott, the owner, is so easy to work with. The team he sent to the reception was very professional."
Boardwalk Photo Boot Rentals serves the New Jersey, Eastern Pennsylvania, Delaware, New York, Maryland, Washington DC, Virginia, Florida and Las Vegas areas. The company provides services for wedding receptions, sweet 16's, bar/bat mitzvahs, corporate events, and any other special celebrations.
For more information about Boardwalk Photo Booth Rentals please contact company owner, Scott Vattima, by phone at 609-742-4110 or by email at info(at)boardwalkphotoboothrentals.com.