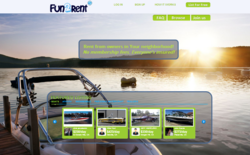 Enabling owners to safely rent out their boats and powersports with insurance.
Sacramento, California (PRWEB) March 05, 2013
The Sacramento Boat Show and Off Road Expo is just around the corner; March 7-10, 2013. The show features more wakeboard boats, tournament ski boats, fishing boats, family runabouts, and pontoon boats than any other event in Northern California.
Fun2Rent will be at Sacramento Boat Show presenting how their peer-to-peer boat rental service can help current and future boat owners lower the cost of ownership. Fun2Rent's booth (P06), is located in the main pavilion, next to the food area and just across from NorCal Mastercraft.
Fun2Rent enables owners to safely earn supplemental income by renting out their vessels, off-road vehicles, and trailers. The concept is Peer-To-Peer Boat and Powersport Rentals. Liability insurance is provided to both owners and renters, as well as insurance coverage on the vehicles, vessels and trailers.
Fun2Rent's safe and insured platform makes the sharing of expensive "grown-up toys" simple.
There are no listing fees, and an intuitive user interface and calendar allows the owner to easily upload photos, select when they rent out their equipment, and set their own rental price. When an owner's vehicle, vessel or trailer is rented out, Fun2Rent deducts a nominal commission fee of 25% to cover their expenses. These expenses include liability coverage for owners, service and technical support on the site, marketing of the listings, and pre-qualified renters.
Boat owners who currently use Fun2Rent's service are renting out their vessels a few days a month and earning $2,000-$8,000 per season, which helps cover their ownership expenses. It's an easy way for boat owners to earn supplemental income on equipment that may otherwise sit idle 95% of the time.
Those who are not yet ready to purchase but still would love to get out on the water can rent these affordable, quality boat rentals and jet-ski rentals with insurance through Fun2Rent's service. The savings are 40-70% compared to renting from existing rental companies.
Visit Fun2Rent at the Sacramento Boat Show, or go to Fun2Rent.com today to start saving on boating and powersports!