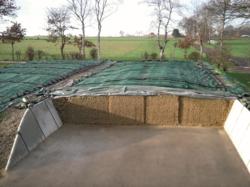 Bock is the most trusted name for silage clamps and coverings throughout Europe and we look forward to extending that to UK farms
Colchester, Essex (PRWEB UK) 14 March 2013
Run as a true Farmer owned cooperative with more than 1250 members, the not-for-profit AtlasFram Group aims to support farmers by sourcing trusted products, negotiating competitive pricing and providing professional, impartial advice. The organisation also assists farmers by taking care of the ordering process through a central point; saving its members essential time on supply chain administration.
Now, thanks to a new supply partnership, members can buy Bock UK silage clamp covers and accessories direct from AtlasFram, which is welcome news for the industry as Bock UK's Business Development Manager Ben Chalk explains: "Our working partnership with AtlasFram means that they are able to work with Bock UK direct on behalf of their members, enabling farmers to place fast track orders for silage coverings effortlessly, without setting up a new account and with the added benefit of a dedicated track and trace delivery service."
Emilie Wix, Livestock Specialist at AtlasFram said: "We are very pleased to be working with Bock UK and are looking forward to offering their silage coverings to our AtlasFram members."
Since launching its unique silage clamp systems to the UK market last year, Bock UK has experienced high demand from UK farmers and expects 2013 to be a busy year for its covering systems. "Farmers are really interested to hear about our products and the unique benefits they can bring to their silaging," says Ben. "The timing is perfect, as we have just launched our UK brochure and are building our reputation for bringing premium silage solutions at highly competitive prices to the UK farming industry. Bock is the most trusted name for silage clamps and coverings throughout Europe and we look forward to extending that to UK farms."
AtlasFram will be able to supply a full range of Bock UK silage coverings and accessories including side wall film, underlay film, silage film and netting and will be offering its members a free gravel bag with every 20m2 of Bock silage film purchased until 30 April 2013.
Contact Bock UK on 01787 220560