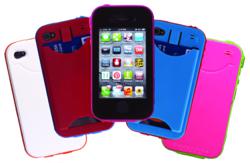 Give a BODACIOUS Case this holiday season. Visit BodaciousCases.com on Cyber Monday for a 40 percent savings.
Ozark, MO (PRWEB) November 21, 2012
A lot of companies sell iPhone cases, but the Band-It Case by Bodacious Cases LLC is "Not Just a Case". In addition to shock and water resistance, it holds an ID, two credit cards and an emergency cash stash. Even so, it's not bulky, sliding easily in and out of your pocket, while providing the ultimate protection if dropped.
But the difference between a Bodacious Case and any other does not stop there. There is no need to sacrifice style for durability with 6 case colors and 12 easily interchangeable band colors to choose from to match any outfit, favorite sports team or school colors. Additional colored bands maybe purchased separately for less than $10.
On Cyber Monday (26 November) the 100 percent Made In America all-in-one Band-It Case is available for only $29.99. That's $20 off the perfect holiday gift for your favorite iPhone owner.
"I'm a 25-year-old entrepreneur who had a dream of making all my products right here in the USA," company founder and inventor Arianna Russell says. "I wanted something different and unique, something truly bodacious.
"With the Band-It Case, you have the best of several cases combined into one. It's a two-piece, snap-together polycarbonate case with an interchangeable colored band added for protection, as well as being very stylish. It's sleek, thin, durable and water-resistant."
Founded in 2011, Bodacious Cases currently focuses on the iPhone 4 and iPhone 4S. However, Russell plans to offer additional cases for the iPhone 5 in early 2013, with Android smartphones, iPod Touch and iPad to follow in the near future.
"Today people have some of the most important details of their lives on their smartphones – everything from names, addresses and phone numbers to personal calendars to treasured photos and videos," she says. "With the Band-It Case, you can keep all that safe, in style. Basically, it's like having your life in your pocket."
Bodacious Cases also has just launched a "Kickstarter" campaign to raise $20,000 to help fund manufacturing a new iPhone 5 case and add additional case colors. Kickstart will continue through December 13, 2012. For more information or to make a pledge, visit http://www.kickstarter.com/projects/bodaciouscases/the-band-it-case-by-bodacious-cases?ref=live.
"If we do not reach our goal of $20,000, we do not receive any of the Kickstarter funds, which we need for tooling, to begin production of the iPhone 5 case, to expand our current colors on the iPhone 4 and iPhone 4S cases and to keep our products 100 percent Made in America, which has been quite a challenge," Russell says. "I'm constantly being told 'Go to China, it's cheaper' and 'You'll never make it if you stay here, it's not possible'. Well, I fought and fought to keep my company here and I did it!"
A Bodacious History
Headquartered in the Foothills of the Ozarks, between Springfield and Branson, MO, Bodacious Cases is more than Russell's dream made reality. It also is the natural outgrowth of her family history.
"I was born into the entrepreneurial life," she says. "My mother, Cheri Russell, owner of a successful wicker restoration business called the Wicker Fixer, gave birth to me in the middle of a three-day craft show. She did the show on Friday, I was born on Saturday and she returned to the show with me on Sunday."
For more information or to order the product, visit the online store at BodaciousCases.com. And stay up-to-date through Facebook.com/BodaciousCases, Twitter.com/BodaciousCases and Pinterest.com/bodaciouscases.