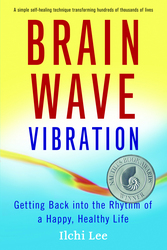 The quality of information one consumes largely determines the quality of one's life
Sedona, AZ (PRWEB) May 19, 2010
Three books written by Ilchi Lee, a South Korean-born brain educator and philosopher who also founded Dahn Yoga exercises, recently won Silver medals in the 2010 Nautilus Book Awards. The Nautilus Awards recognize books and audio books that promote spiritual growth, conscious living and positive social change, while at the same time stimulating the imagination and offering the reader new possibilities for a better life and better world. Lee's books are published by BEST Life Media based in Sedona, Arizona.
The winning titles include: Brain Wave Vibration: Getting Back into the Rhythm of a Healthy, Happy Life in the Personal Growth/Psychology category; Healing Chakras: Awaken Your Body's Energy System for Complete Health, Happiness and Peace in the Health/Healing/Energy Medicine category; and In Full Bloom: A Brain Education Guide for Successful Aging in the Aging Gracefully/Retirement category.
For more than 30 years, author Ilchi Lee has dedicated his life to promoting a healthier, happier and more peaceful existence for all humanity. His Nautilus Award winning titles provide practical tips for brain enhancement, ki energy healing, chakra balancing, integrative body mind training, and healthy aging. Lee's books are designed to promote a lifestyle of continuous personal growth and enrichment.
"The quality of information one consumes largely determines the quality of one's life," said Ilchi Lee. "I believe in creating positive and supportive resources through which individuals can create better lives for themselves and their community," he said. "I am humbled and honored to have my work recognized by the 2010 Nautilus Book Awards," he added. Many of Ilchi Lee's books emphasize the optimal development and use of the human brain.
Now in their 10th year, The Nautilus Book Awards, honors literary and heartfelt contributions to spiritual growth, conscious living, high-level wellness, green values, responsible leadership and positive social change, as well as to the worlds of art, creativity and inspirational reading for children, teens, and young adults. The Silver and Gold winners are carefully selected in a three-tier judging process by an experienced team of book reviewers, librarians, authors, editors, bookstore owners, and leaders in the publishing industry.
Winning authors reflect the Nautilus Book Awards mission, "Changing the World, One Book at a Time," and include such distinguished authors and teachers as Deepak Chopra, Thich Nhat Hanh, Barbara Kingsolver, His Holiness the Dalai Lama, Joel Olsteen, Caroline Myss, and Marianne Williamson. Awards founder, Marilyn Mcquire, has created the Nautilus Library of Imagination and Possibility, where all Nautilus Award winners are featured. Ilchi Lee has authored 32 books on topics related to brain development, health and wellness, spirituality, and personal growth. His work now joins the ranks of some of the most celebrated authors of our time.
Availability:
Brain Wave Vibration (ISBN 9781935127369), Healing Chakras (ISBN 9781935127048), and In Full Bloom (ISBN 9780979938839) are available through neighborhood and online booksellers or they can be purchased directly from BEST Life Media. Trade orders can be placed through SCB Distributors, Ingram, Baker & Taylor and New Leaf.
About the Author:
Ilchi Lee is a brain philosopher and educator dedicated to creating a healthier, happier and more peaceful existence for all humanity. He is the founder of Dahn Yoga and Brain Education System Training, techniques designed to enhance human potential and quality of life through a variety of mind-body training methods. His self-development programs, used by thousands of people worldwide, are a unique blend of Eastern philosophical concepts and Western scientific understanding of the brain.
About BEST Life Media:
BEST Life Media produces energy healing and yoga books, yoga DVDs, relaxation music and CDs, and other products that promote healthy body mind spirit living. Brain Education System Training (BEST), which seeks to better the human condition through a variety of self-development techniques, serves as the underlying inspiration for many of our titles. Visit our website to browse our affirmation cards, chakra meditation guide, wall art, and personal journals. Whether you are well on your path, or just starting out, BEST Life Media has the tools to assist your spiritual growth. For information, call (877) 504-1106.
###