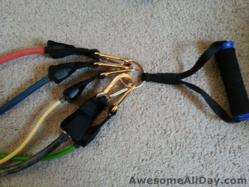 The Bodylastics system delivers an impressive range of more than 140 exercises, more than double the range of more well-known resistance brands.
San Diego, CA (PRWEB) October 26, 2012
With hundreds of thousands of users, Bodylastics is firmly settled in the mainstream. Today, the most recent research report is launched, to test the claims and effectiveness of the Bodylastics system.
The on-going recession has affected all but the richest, and for many of us, this has meant cutting back on non-essentials such as expensive gym memberships, or postponing new home gym equipment purchases. And with big name, at-home gym systems costing up to $2,500, it's no wonder that we're being cautious with our spending.
However, there is one home gym system that is beating the rest and is wallet-friendly too. The Bodylastics system comprises 7 different resistance bands with a clip system to combine the bands and a door frame clip to replicate the movements of popular gym machines like lateral pull downs and chest presses.
Product Analyst Bill Bertens has reviewed the market, and offers his opinion as to the success of the Bodylastics system. "Resistance training is nothing new to the fitness world, featuring in many athletes', military and celebrity training programs," said Bertens. "What Bodylastics has done is develop a training system which can turn any room at home into a gym, and is lightweight and portable enough to be carried anywhere. None of us need ever miss a workout again when we're on the move."
Bodylastics uses resistance bands to create tension and stress on your muscles, and as muscles adapt, they change strength and shape, making the system perfect for people that want to tone up and reduce fat, or build muscle.
"The Bodylastics system delivers an impressive range of more than 140 exercises, more than double the range of more well-known resistance brands," continued Bertens. "The company behind Bodylastics has also produced over 100 workouts for its users, ranging from pilates and yoga to kickboxing and bodybuilding, available on its live workout website."
"People need to know that their equipment is safe, too", said Bertens. "Bodylastics has spent 11 years developing its DGS (Distance Governor Safety) technology which prevents the overstretching the bands to breaking point; the elastics are now 99.9% snap-resistant, even up to an incredible 150lb of pressure."
The system is so popular that it has been endorsed by a wide range of users, from regular gym-goers to personal trainers, physiologists in obesity clinics and ex-bodybuilders who are using the system to recuperate without aggravating old injuries. Elastic resistance is the smoothest form of resistance available and, unlike free weights, elastic resistance does not create the momentum responsible for so many injuries. This momentum-free, continuous tension movement provides a great workout without aggravating old injuries.
The system starts at $50, and allows up to 120 different resistance combinations using its colored-band system, providing a resistance of up to 150lbs.
"As with any product today, customer satisfaction is a priority," concludes Bertens. "Bodylastics offers a lifetime warranty on its bands, and a full 90-day money back guarantee if users aren't completely satisfied."
In Conclusion
There are many home gym systems available on the market, but many require a substantial investment or premium space at home. The Bodylastics gym is lightweight enough to be packed into any overnight bag, and with its unique door clip it is capable of turning any room into a gym. The savings of up to 98% compared to its big-name competitors have ensured its continuing success in the market and a devoted following of hundreds of thousands, ranging from regular gym users and athletes to healthcare professionals.
Please visit the Official Bodylastics Website via the link below:
Official Bodylastics Website
Visit Bodylastics at Amazon
Bodylastics @ Amazon.com
To access the full review please visit:
http://www.awesomeallday.com/bodylastics-review/
About AwesomeAllDay.com
Based out of San Diego, California, AwesomeAllDay.com is a new product review website covering a wide range of products from Home and Garden to Health and Beauty. The main focus of the site is to provide consumers with well-researched product reviews. Disclaimer: AwesomeAllDay does receive compensation from companies whose products they review, though it does not affect the opinions expressed by their product review specialists. They research each product thoroughly and give high marks only to those products that deserve it.