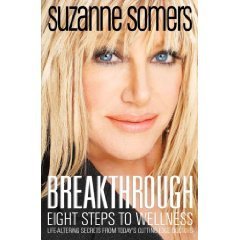 We applaud Suzanne Somers for her advocacy when it comes to bioidentical hormones and the true benefits they can offer men and women
Boca Raton, FL (PRWEB) October 10, 2008 -
When Suzanne Somers talks about bioidentical hormones, people listen. Suzanne Somers has released another book discussing her success with bioidentical hormones and she lists BodyLogicMD as an anti-aging resource.
"We applaud Suzanne Somers for her advocacy when it comes to bioidentical hormones and the true benefits they can offer men and women," said Dr. Alicia Stanton, Chief Medical Officer of BodyLogicMD. "Somers shares her personal steps to wellness and we hope it helps educate the community about these cutting-edge, proven remedies and preventative healthcare that is not recognized by most health providers."
Somers says the cornerstone of breakthrough medicine is bioidentical hormone replacement. The key is to first understand what hormones your body produces and what happens when you lose them. She dedicates an entire chapter to the different minor and major hormones in the body. Some of the hormones listed include:

Estrogen: Primarily a female hormone, estrogen is present and necessary in both the male and female body. Estrogen affects our organs and tissues including the brain, liver, bones, skin as well as blood vessels and female sex organs.
Progesterone: Primarily a female hormone, progesterone is also needed in the male body. It is produced in the ovaries and adrenal glands and helps build and maintain bones, and prevents cancer.
Testosterone: A critical hormone in both the male and female body, testosterone helps maintain bone density, fat distribution, muscle mass and strength, red blood cell production and sex drive.
DHEA: Referred to as the "mother hormone" of the body, DHEA is produced in the brain and is responsible for helping balance other hormones like testosterone.
Thyroid: Responsible for our metabolism and control of the efficiency and speed of how fast our cells "work," the thyroid hormone is one of the most vital hormones in the body and can cause severe reactions in the body if it is unbalanced.
Cortisol: Known as the stress hormone, cortisol is vital to human life and if it occurs too low or too high, severe systemic complications can result.
Melatonin: The melatonin hormone controls the body's sleep function. When the body has low levels, deep and restful sleep is difficult.
"BodyLogicMD physicians recommend Suzanne Somer's book, 'Breakthrough: Eight Steps to Wellness' to all patients as an educational source of the latest information on hormone therapy. When coupled with the diagnostics of a qualified hormone therapy specialist, Somers' book is an invaluable wellness tool," said Stanton.
About BodyLogicMD:
Founded in 2003, BodyLogicMD currently has 19 locations nationwide each with highly trained, physician-owned practices specializing in natural bioidentical hormone replacement therapy integrated with fitness and nutrition for men and women suffering from hormonal imbalance, menopause, and andropause. Suzanne Somers' latest book "Breakthrough: Eight Steps to Wellness" lists BodyLogicMD as an expert source and her previous book, "Ageless, The Naked Truth About Bioidentical Hormones" dedicates an entire chapter to BodyLogicMD.
Subscribe to the BodyLogicMD blog with weekly hormone therapy news and views at: http://bodylogicmd.wordpress.com/.
Subscribe to the Menopause Maniac blog with weekly posts and videos at: http://menopausemaniac.com.
###