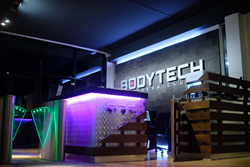 It's a very easy system to operate. It's only been in service for a year and the return on investment has been outstanding.
LILLINGTON, N.C. (PRWEB) October 31, 2018
Boon Edam Inc., a global leader in security entrances and architectural revolving doors has implemented their Speedlane 300 entry system at the Bodytech Fitness Club in Aruba. The resort island of Aruba in the Caribbean attracts millions of tourists looking for rest and relaxation as well as a large number looking to stay fit while on vacation. Visitors have been doing just that for over a year at the Bodytech Fitness Club which, according to their website, offers a spacious, air-conditioned gym and the best and latest Life Fitness equipment designed for their guests' enjoyment. The gym even offers tourists two-week passes for utilization during their visit to the island.
Easy and Fast Access
Bodytech's slogan is, "You won't keep coming because you need to, you'll keep coming because you want to". Bodytech is open seven days a week, giving daily access to between 200 and 400 people. With the installment of a new Boon Edam Speedlane 300 optical turnstile, visitors are ensured fast and easy access to the gym.
The Boon Edam Speedlane 300 offers a stringent level of security coupled with a modern and functional design that is "very strong and dependable" according to Fernando Metz, commercial director of Mexim Aruba, the installer of the access control system and the optical turnstile.
The Speedlane 300 consists of two elliptical cabinets with angel wing barriers that retract into the units to allow passage to authorized users. Most striking about this entry solution are the lights that have been integrated into the angel wings. The barriers turn green when the lane is ready for use and red when the barriers are closing, or when an alarm has been triggered. The visitor immediately recognizes whether to enter the lane or wait for assistance.
Efficient Security and Service
The Boon Edam Speedlane 300 solution is not only attractive, it also provides biometric access control with fingerprint readers. This enables the club to determine which members have not paid, allowing the club to better control access to the facilities.
"It's a very good product and we've never had any problems with it. It is very stable and does the job it needs to do," says Jason Gerlin, co-owner of Bodytech Aruba. "All of the employees like the fact that they dont need to spend time monitoring dates of the membership; its all automatic."
Easy Integration
The Boon Edam entry system operates with open source software from the gym, facilitating the integration of new equipment and programs.
Mr. Gerlin notes, "it's a very easy system to operate. It's only been in service for a year and the return on investment has been outstanding". He also highlighted the customer service and monitoring that Mexim Aruba has offered. "If there are any questions, they are more than willing to help".
Mr. Metz recommends Boon Edam entry systems because of their quality and performance. In his opinion, "Nothing comes close in the market."
For Further Information, Please Contact:
Tracie Thomas, Boon Edam
Vice President of Marketing
T 910 814 8239
E tracie.thomas@boonedam.com
For Media Queries, Please Contact:
Sara Chaput, LRG Marketing
Public Relations
T 845 358 1801
E: schaput@lrgmarketing.com
About Royal Boon Edam
We are proud to be a third-generation Dutch family business committed to making people feel welcome and secure through our quality engineered entry solutions. Headquartered in the Netherlands, with a footprint spanning the globe, Royal Boon Edam International is a premium manufacturer of revolving doors, high security doors, turnstiles and Speedlanes. A heritage that exceeds 140 years has resulted in wide expertise in managing the safe transit of people through office buildings, healthcare facilities as well as via public and private spaces. We are truly focused on adding genuine value to our customer's entrances and to a long-term relationship after sales, service and maintenance. We partner, collaborate and become an extension to the customer team to ensure that the project, people and valuables are in safe hands with us. We are your entry experts. Discover more about our latest news at http://www.boonedam.us/news or follow Boon Edam Inc. on our blog, Facebook, Twitter, and LinkedIn.