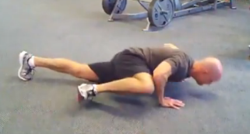 Atlanta, GA (PRWEB) February 28, 2013
With spring just around the corner, people all over the world are looking for new ways to get quality bodyweight workouts without having to go to overcrowded gyms. But the problem most people face is that bodyweight training programs get boring many people, which makes them stop working out all together. That's why Mike Whitfield, a fitness trainer in Atlanta, GA, loves creating new and exciting bodyweight training programs for his subscribers at Bodyweight Torch. He understands these issues with bodyweight exercises and likes to reveal new and unique bodyweight exercises to his subscribers. That's one of the reasons he developed a new bodyweight training program called "Bodyweight Torch" and decided to release some bodyweight exercise tutorial videos for his readers, including the Spiderman Pushup.
"The Spiderman Pushup is an advanced upper body bodyweight exercise that works the shoulders, chest, triceps and core. It's what I call a hidden gem bodyweight ab exercise. But it's a rather difficult exercise to explain and that is why I released a video demonstrating how to perform the Spiderman Pushup exercise. Bodyweight exercise programs don't have to be boring and when people bring in exciting and new moves into their bodyweight training programs, they are more inclined to stick with it to see the long-term and permanent results. I was very excited to share this video on how to perform one of the best upper body bodyweight exercises. My subscribers depend on the latest information and the best bodyweight exercises and that's what drove me to create the free Bodyweight Torch program as well as film some of the unique bodyweight exercises found in many of my programs."
The four-week bodyweight program including a variety of pushups requiring no equipment is free and can be downloaded at http://www.bodyweighttorch.com.