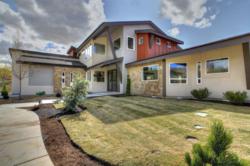 The average sales price of a home in Boise Idaho was $208,906 in June 2012.
Boise, ID (PRWEB) July 15, 2012
The Boise Idaho Real Estate Market has been recovering from the crash since August 2011. Prices continue to rise which indicates that demand still is greater than supply but inventory levels seem to have stopped dropping, or at least not as drastically as they have been in most areas surrounding Boise, Idaho.
The June 2011 report by the Intermountain MLS indicated 690 homes sold, up 55 from the previous year. Overall 2012 home sales continue to show momentum at 3,333 YTD which is almost 10% more than the previous year. The average sales price of a home for sale in Boise Idaho was $208,906 in June 2012 compared to $188,236 in 2011, a $20,670 increase.
Boise Idaho Real Estate Recovery is a term many people read about as positive news but don't realize that this is bad news for home buyers. "Recovery" means that home prices are going up. At first glance, you may think this is good and it is great news for the economy but for the individual searching Boise homes for sale, it simply means the home is getting more expensive. Is Boise Idaho creating another real estate bubble? It is too early to tell but if investors continue to compete with home buyers, Boise could see another downturn long term.
About BUILD IDAHO
BuildIdaho.com is the most comprehensive real estate guide for new homes in Boise Idaho. Locate hundreds of new communities including interactive maps and community profiles including building lot sizes, lot prices and starting home values. Research local home builders profiles, gallery of homes and homes for sale. Search Boise Homes for Sale and use Home Buyer Tools.