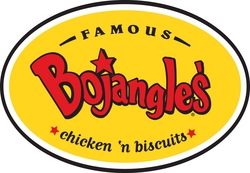 We all hear about the recession that is having such a negative impact on many businesses, but our Bojangles' team simply chooses not to participate. Bojangles' is proud to invest in the Morganton area, and we look forward to continuing our relationship with this community.
Morgantown, NC (Vocus) October 5, 2010
Bojangles' opened a new restaurant in Morganton today, Tuesday, Oct. 5 at 1200 Burkemont Ave. Customers who are already fans of Bojangles' world-famous chicken, made-from-scratch buttermilk biscuits and legendary iced tea have eagerly anticipated the restaurant's arrival. Those in the Morganton area trying Bojangles' for the first time are in store for a product and brand they will soon crave.
The new Burkemont Avenue Bojangles' will serve all of its menu items made fresh all day, seven days a week. They will serve southern classics with Bojangles' one-of-a kind flavors, including its World Famous chicken, made-from-scratch buttermilk biscuits, chicken sandwiches, flavorful fixin's and freshly-steeped legendary iced tea. In addition to individual orders, Bojangles' also prepares family-sized meals, including the eight-piece Tailgate Special with eight pieces of flavorful chicken, four made-from-scratch biscuits, choice of two large fixin's, including Cajun Pintos™, Dirty Rice™, mac n' cheese, green beans and seasoned fries and one-half gallon of Bojangles' legendary iced tea.
Along with serving exceptional food, Bojangles' is also committed to serving the community by supporting causes like the Muscular Dystrophy Association. Since Bojangles' began working with MDA 12 years ago, the company has supported breakthrough research and other needs by raising more than $1.2 million.
Bojangles' new company-owned restaurant in Morganton also represents an economic investment in the area. The average investment made by the company for new locations is $1.7 million, and each new store creates an average of 25-35 new jobs. The new Bojangles' will also affect the local economy through increased tax revenues and by using local companies for recurring needs such as landscaping and repairs.
"Bojangles' is one of the fastest-growing restaurant brands in the country, and we are committed to continuing our aggressive expansion," said Bojangles' President and CEO Randy Kibler. "We all hear about the recession that is having such a negative impact on many businesses, but our Bojangles' team simply chooses not to participate. Bojangles' is proud to invest in the Morganton area, and we look forward to continuing our relationship with this community."
About Bojangles'
Founded in 1977 in Charlotte, N.C., Bojangles' Restaurants Inc. serves only the highest quality and most flavorful food to its loyal customers, with all of its proprietary menu items made from scratch. A special blend of seasonings gives the food its unique flavor, including Bojangles' core menu selections of World Famous chicken, fresh made-from-scratch buttermilk biscuits and legendary iced tea steeped the old-fashioned way. Bojangles' also offers biscuit sandwiches that are served all day. Unique sides like Dirty Rice™, Cajun Pintos™ and Seasoned Fries are just a few of the flavorful fixin' choices. First franchised in 1978, Bojangles' boasts close to 500 locations in 11 states, primarily in the Southeast. The company was named one of the top 10 growth concepts in 2009 by both GE Capital and QSR magazine. Its strong performance in all three day parts is what sets Bojangles' apart from all other restaurants. For more information, visit http://www.bojangles.com.
###