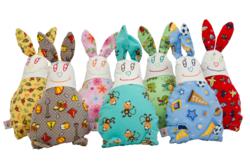 San Diego, California (PRWEB) June 05, 2013
Bommerscheim Sisters Company is pleased to announce that it has officially released its line of Bommerscheim Buddies, which are lovable, nostalgic stuffed animals that kids adore. What began as a family tradition passed down through generations is now something children throughout the world can enjoy.
Bommerscheim Buddies were born in the 1960s when Joan and Pat Bommerscheim began creating hand-made stuffed animals for their children – a skill they learned from their mother, Irene Bommerscheim, who was an experienced seamstress; and now the tradition is more alive than ever.
Today, Bommerscheim Sisters Company is on a mission to take the family tradition and share it with the world. The company wants others to experience the comforting, fun stuffed animals Bommerscheim family members came to love and still cherish to this day.
Aside from being cute and cuddly, Bommerscheim Buddies are safe for children of all ages and feature a removable cover that can be easily washed. Plus, they're customizable and made in the United States of America.
To learn more about Bommerscheim Sisters Company and see the Bommerscheim Buddies that are now available for sale, please visit the company website: http://www.bommerscheimbuddies.com
About Bommerscheim Sisters Company:
Founded by Paul Kluempers who was intent on sharing his family tradition with the world, Bommerscheim Sisters Company is the creator and manufacturer of lovable, nostalgic cuddle toys called Bommerscheim Buddies. The plush toys are available in a wide variety of fabrics and patterns, and feature removable covers that are easily washed. All products are made in the U.S.A.
Contact:
Bommerscheim Sisters Company
Attn: Paul Kluempers
18638 Robleda Ct
San Diego, CA 92128
858-900-5080
http://www.bommerscheimbuddies.com