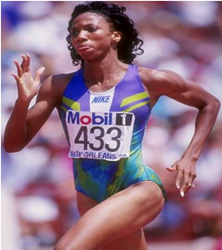 SCOTTSDALE, Ariz. (PRWEB) August 31, 2018
Michael Gilburd, CEO of Boink Live Streaming Corp. http://www.boinklive.com, announced today that Dr. Rochelle Stevens will be using "Bonk Be. Live" to help her followers lose weight and to get healthy. Dr. Rochelle Stevens, a former International Track Star who has dazzled the world of Track and Field as one of America's best 400 meters runner for 12 years competing in 50 countries and 6 continents for Team USA. Rochelle has won NINE MEDALS, including a Gold and Silver Medal from Two Summer Olympics Games. She has accomplished Four USA Track and Field National Championships NCAA Division I National Title U.S. Olympic Trials Champion Masters 200 meters World Record Holder Hundreds of meet titles & records Rochelle has been inducted into Six Halls of Fame. As a seasoned National Spokesperson and Brand Ambassador, she has endorsed Nike, Maybelline, Shades of You, Sara Lee Corporation, Frito Lay, International Paper, Johnson Products, Posner Cosmetics, and Oakley Sun shades. She has been featured in Sports Illustrated, Runners World, Jet, Black Hair, Upscale Magazine, USA Today Newspaper and hundreds of publications worldwide. Rochelle has appeared on NBC, CNN, Euro-Sports, CBS, British Broadcast Network, ABC Worldwide of Sports, Fox, ESPN, "The Undefeated" and hundreds of local and international television and radio networks. Since retiring from track and field Rochelle is still making tracks with 25 years of experience as a Motivational and Keynote Speaker, Lunch and Learn Seminars and Brand Ambassador. Her enthusiasm and ability to connect with her audience is a gift with a variety of topics.
Michael Gilburd also stated, "Our VP of Corporate Development, Sean Green, who is the lead in our Sports & Entertainment division, having specialized in this sector for more than twenty years, is excellent at introducing and working alongside celebrities for their use of our Bonk Be. Live app". Working with Sean, his long-time colleague at American Express, Gilburd believes there will be several more entertainers and athletes who will seek to send their messages through the new version of "Bonk Be. Live".
Sean's background in Corporate Development and Financial Services includes seven years with American Express Financial Advisors/Ameriprise.
About Bonk Be. Live
Bonk Be. Live is a tool for broadcasting live-streaming videos and watching others perform. With Bonk Be. Live you can log in with a phone number, Facebook account, or Instagram account. Bonk Be. Live is the best App for Superstars, Performers and Aspiring Stars who want to keep their fans updated. Bonk Be. Live Star Broadcasters interact with fans worldwide. Professional Athletes, Singers, Dancers, Motion Picture Stars, Famous DJs, Rappers, YouTube celebrities, and Facebook top influencers: all can connect to millions of fans and new broadcasters can have fun online endeavoring to become the next Bonk Be. Live star!