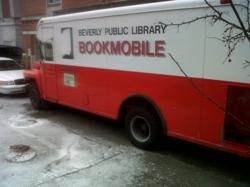 Mutual Aid Street Clinic plans to refurbish the bookmobile into a mobile health clinic, which will serve the community.
Beverly, MA (PRWEB) March 08, 2013
In an online auction that ended on February 28th, Mutual Aid Street Clinic acquired a 1987 Ford B 700 Bookmobile from the City of Beverly, MA. By using an established, but innovative, online government auctions site specifically designed for municipalities, Beverly conducted a 2-week auction of the surplus vehicle in an effort to garnish money to be put back into its budget.
The City of Beverly used online auction site, Municibid.com to sell the vehicle. Municibid was established in 2006 and has grown steadily since, with over 800 government agencies auctioning surplus through the efficient online system. Beverly auctioned the hard-to-find bookmobile online because the website has an established nationwide reach growing every day. Auctions on Municibid result in competitive bidding and fair prices for government surplus items.
Before the auction ended and bidding was still taking place, David Gelineau, Purchasing Agent for the City of Beverly said, "This bookmobile has served so many folks, from new moms who couldn't get to the library to read to their babies to elderly shut-ins whose only contact with the outside world were good characters in a book and the friendly bookmobile driver. Now, we hope that a charitable party will purchase it to donate as a unique gift to a community. This bookmobile has created many smiles and can keep on giving."
That's exactly what happened. Mutual Aid Street Clinic reported on their website that they won the vehicle auction due to the last minute support of a capital contributor. The organization plans to refurbish the bookmobile into a mobile health clinic, which will serve the community. A representative of Mutual Aid Street Clinic said on their website, "As street medics, spreading health knowledge and encouraging others to take on the provider role is how we project health into our communities and empower people to serve others. Our mobile clinic will scale up that philosophy by training homeless and street involved youth as peer health educators who will work alongside the nurses and EMTs on our team to provide walk-in health services."
Municibid Founder and CEO, Greg Berry said, "This is an especially positive example of the benefits of online auctions, particularly for unique items such as this old bookmobile. By using Municibid, government auction items reach a broad audience of competing bidders, who may not have otherwise known a vehicle like this was available."
The City of Beverly's online auction of this government surplus item ended on February 28th. The listing for the bookmobile was orginally found here: http://www.municibid.com/detail.asp?id=15056&n=1987-Ford-B-700-Bookmobile
About Municibid.com
Municibid.com is an online government auctions platform serving over 800 state and local government agencies across the US from cities like Philadelphia, Boston and Baton Rouge, to small towns, authorities, school districts and universities. Municibid is designed for government agencies to more effectively sell surplus, forfeitures and other no longer needed items to the public via a convenient and easy-to-use website. Municibid proactively markets items nationwide via social media and traditional avenues at no cost to the selling agency.