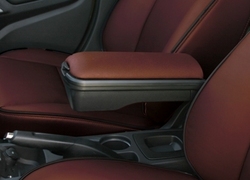 The Boomerang armrest is the way to go. The colors and grains are an exact match with the Fiesta.
Boulder, CO (PRWEB) November 2, 2010
Many US and Canadian Ford Fiesta owners are much more comfortable in their vehicles thanks to Boomerang Enterprises, Inc. of Colorado and their new Boomerang Armrest console for the 2011 Ford Fiesta. Boomerang, a manufacturer of specialty automotive accessories, delivers comfort, convenience and functionality to the interior of the 2011 Ford Fiesta with a high quality folding armrest console that provides additional storage and a slide-out cup holder. Boomerang developed the armrest specifically for the recently introduced North American Ford Fiesta and is reporting they are receiving overwhelmingly positive feedback from Fiesta owners.
Boomerang believes their customer-centric approach is largely responsible for the success of the Boomerang Armrest console. "The response we have been receiving from Ford Fiesta owners is fantastic," says Rhonda McCarter, Boomerang Production Manager. "Our entire staff devotes endless energy to developing our accessories. It is very gratifying when we launch a new product and consumers contact us to tell how much they love it."
Boomerang's philosophy that aftermarket accessories should never look "aftermarket" results in a product with exceptional fit and finish that looks completely OEM. Boomerang President Christopher Fischer suggests "Boomerang has a very different approach from other companies that often underestimate their customers. For example, rather than offering our armrest only in black, we have increased customer satisfaction and sales by recognizing that Fiesta owners expect their armrest to match the interior." Boomerang offers four versions of the Boomerang Armrest console, which are custom tailored to match the 2011 Fiesta interiors: Charcoal Black, Light Stone, Cashmere and Plum Red. Fiesta owner and retired Ford Engineering Vehicle Quality Supervisor Dennis Cuper concludes, "The Boomerang armrest is the way to go. The colors and grains are an exact match with the Fiesta interior."
An all-metal frame and mounting bracket give the Boomerang Armrest console exceptional structural integrity. It is engineered to withstand what the company considers to be normal weight which includes children crawling over it and owners leaning on it as they enter and exit the vehicle. The armrest can be installed securely in minutes, requires no cutting or unsightly permanent modifications to the vehicle and is backed by a 3 year warranty regardless of whether or not it was installed by an authorized Ford dealer.
Boomerang has launched a new web site, BoomerangArmrest.com, to reinforce the brand identity of their popular Boomerang Armrest console. The newly enhanced web site features a detailed installation video guide, an expanded product photo gallery and foreign language versions of the site for international consumers.
The Boomerang Armrest console for the 2011 Ford Fiesta is available at participating Ford dealerships in the US and Canada. It is also available from Amazon.com, select online retailers and direct from the Boomerang online store. The Boomerang Armrest console is currently offered only for North American production Fiestas. For more information please visit BoomerangArmrest.com or contact Boomerang directly at (888) 521-6372.
About Boomerang Enterprises, Inc.
Boomerang Enterprises, Inc. located in Boulder, Colorado, was founded in 1995. The company is an ISO 9001 certified manufacturer of quality OEM and aftermarket automotive accessories.
# # #