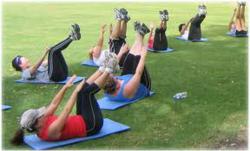 The man who removes a mountain begins by carrying away small stones. - Chinese Proverb
Chino Hills, CA (PRWEB) June 08, 2012
Fitness boot camps are dying a slow death. Years ago, the novelty of outdoor workouts, obstacle courses, and basic group training caught on like wild-fire and business owners need only offer such a product to meet with instant success. However, the surge in popularity brought an influx of competition. A new website, http://www.Super-Trainer.com, provides helpful strategies to keep fitness business owners afloat and avoid a slow death.
Sam Bakhtiar is a Boot Camp Marketing Expert with over 20 years in the field. He started the Fitness Concepts Boot Camp in Chino Hills on a dollar and a dream, building his empire into a multi-million-dollar business – even back before boot camps were "cool." Unfortunately, there are a number of low-quality boot camps that overpromise and under-deliver, Sam says, which is described in greater detail in his blog. "Recently I saw six months of boot camp advertised for $125. That is just insanity!" he exclaims.
To avoid a slow, painful death, Sam provides the following advice:

Differentiate from the masses by providing a high-quality boot camp marketing pitch.
Sam says, "One way I market my boot camp differently is that I emphasize that we offer group personal training. We don't just herd people into a room for a group class. Each new member sits down with a nutritionist to draw up a fully customized meal plan. Each new member sits down with our trainers to talk about health history, goals, and setting milestones for progress. Measurements are taken and we make sure people know we are focused on helping them succeed – not just delivering a workout."
Emphasize that boot camps are an experience, not just a workout.
Sam says, "We think of Fitness Concepts as a social club. People come to our camp over the next guy's because we have fun! We go to movies; we go out to dinner; we attend seminars and run 5-K races as a group. We send our members personal cards, emails and make phone calls just to say what's up. You're not just one small fish in a sea of people here. We make sure you feel welcomed and engaged. With us, you are part of an elite club. Ultimately, that's what people are willing to pay for – and stick with – over time."
Run boot camp marketing like any honest business.
Sam says, "Look, it's not a hobby venture: it's a business. So you need to run it as such. You need customer management tools, a marketing plan, a lead generation and conversion process, and time-saving systems in place. You need to educate yourself on core business and marketing principles."
To help people learn the ropes in boot camp marketing, Sam Bakhtiar offers free advice on a brand new one-of-a-kind blog at Super-Trainer.com, which has been designed to be a one-stop-shop for people in the personal training and boot camp industry. In addition to the informative articles, Sam also shares his business resources from copywriters to email software and offers dynamic weekend workshops that bring together fitness industry millionaires from across the country.
About Sam Bakhtiar
Sam Bakhtiar is a Persian-born American with over twenty years of experience in fitness training and body building. After completing B.S in Premed and Nutrition, Sam also received a degree of doctorate of Chiropractics. Along with being one of the best fitness trainers, Sam is also a business and marketing expert. After establishing a successful fitness training business with substantial income, Sam is helping other professionals in the industry to achieve their business goals. For more information, please contact using the following information.
Contact Information:
Sam Bakhtiar
Fitness Concepts
909-393-9075
http://www.super-trainer.com