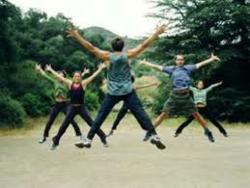 Vision without action is daydream. Action without vision is nightmare. - Japanese Proverb
(PRWEB) June 11, 2012
Even though boot camps are a popular trend right now, simply existing does not guarantee success as it might have in the past. Over the last two years, boot camps have sprung up literally everywhere and for every one superior boot camp, there are ten inferior ones. Boot camp marketing strategies will bring clients in droves if executed properly.
Sam Bakhtiar has been a multi-millionaire fitness business mogul since before the dawn of Chino Hills boot camp marketing. He worked his way up from being a champion bodybuilder / certified personal trainer who made just $20,000 a year to an industry expert making more than $2.4 Million a year. "I'm not one of those people who forgot my roots and now makes a living doing public speaking tours," he is careful to clarify. "I'm still very much in the trenches, working as a personal trainer every single day because that's where my passion lies."
Sam adds, "I do like to share what I've learned, so every year I agree to take a few personal trainers under my wings with my boot camp marketing mentorship. I only work with people who are ambitious, talented, and motivated to succeed because I want to see all my graduates making six or seven figure incomes over the next 12 months after applying what they've learned."
The basic elements of a successful boot camp marketing strategy include:
1. Remembering the names of all clients and building relationships with them
2. Arriving on-time, wearing professional clothes and smiling
3. Offering half-off pricing for friends or a month of free boot camp for each referral
4. Soliciting testimonials using surveys and promotions
5. Planning all workouts ahead of time and creating a theme for each class
6. Creating an easy payment system like credit card auto-enrollment
7. Measuring clients' fitness and weight levels to track progress
8. Setting short and long term goals with each individual
9. Harnessing the power of social media and gaining a presence on all the major sites
10. Finding new, creative ways to reward regular clients and make classes more fun.
In addition to covering all these areas, "Six Figures In 67 Days" shows boot camp marketing professionals how to automate aspects of their businesses and implement effective systems so they can decrease their hours and focus on core activities, such as lead conversion. This tested, tried and true fitness marketing program can be downloaded for free at http://www.super-trainer.com for a limited time only.
About Sam Bakhtiar
Sam Bakhtiar is a Persian-born American with over twenty years of experience in fitness training and body building. After completing B.S in Premed and Nutrition, Sam also received a degree of doctorate of Chiropractics. Along with being one of the best fitness trainers, Sam is also a business and marketing expert. After establishing a successful fitness training business with substantial income, Sam is helping other professionals in the industry to achieve their business goals. For more information, please contact using the following information.
Contact Information:
Sam Bakhtiar
Fitness Concepts
909-393-9075
http://www.super-trainer.com